Established in 2016, the Duke Center for Retinal Degenerations & Ophthalmic Genetic Diseases (CRDOGD) has already asserted itself as a regional leader in the field.
The center's research focuses on gene therapy and other neuroprotective strategies, placing it at the forefront of a number of innovative treatments.
This is made possible by the center's state-of-the-art Visual Function Diagnostic laboratory, which uses electrophysiological and psychophysical methods that authorize a faster and more accurate diagnosis and prognosis.
With fewer than 20 centers of its kind in the United States, the object of the CRDOGD is to improve diagnosis, provide optimal treatment, and find cures for both genetic and non-genetic retinal degenerative diseases.
Since there are a number of factors affecting the management of these complex diseases, Director Alessandro Iannaccone, MD, MS, FARVO works to bring together the expertise of medical and surgical specialists, genetic counselors, researchers, and imaging specialists.
This highly comprehensive approach to treatment allows patients to receive specialized genetic counseling and optometric visual rehabilitation whenever necessary.
Dr. Iannaccone believes that in the future, the CRDOGD, with his new regional registry, will more easily be able to identify patients who qualify for participation in their cutting-edge clinical trials, as well as work in conjunction with the Duke Biobank to build awareness and increase the number of ocular specimens available for use.
A fellowship program has been established and will welcome our first fellow in 2019.  The fellowship will prepare the fellow to work independently as an inherited retinal disease specialist and advance care for patients with these debilitating diseases.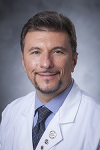 "Our goal is to provide the best possible standard of care using what is available today while
actively working toward developing the innovative treatments of tomorrow."

– Director Alessandro Iannaccone, MD, MS, FARVO