Duke Advanced Vitreous Surgery Courses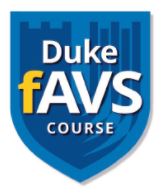 8th Annual Duke Fellows Advanced Vitreous Surgery (fAVS) Course
May 20-21, 2022
The fAVS meeting is an annual educational event for all North American and International Surgical, Medical Retina and Uveitis fellows. Extensive educational content includes medical and surgical panel discussions, surgical videos tricks and tips, and the unparalleled wet lab experience with access to some of the latest technology and cutting-edge procedures with one on one faculty/fellow interaction.
Free registration, travel stipend, and shared lodging is available to first-year surgical fellows, medical retina fellows, and uveitis fellows. Second-year surgical fellows are welcome to attend for a nominal fee.
In addition, surgical retina fellows are encouraged to submit a short surgical video (no more than 2 minutes in length) via file sharing systems to avs@medconfs.com. Five surgical videos will be selected for presentation at the meeting as part of surgical video discussion panels.
For any questions, please contact avs@medconfs.com.