Duke Glaucoma Symposium
The Annual Glaucoma Symposium is designed to provide the latest advances in medical and surgical management of glaucoma.  Novel diagnostic and treatment modalities will be presented by Duke Eye Center Faculty and distinguished guest(s).
35th Annual Glaucoma Symposium 
Saturday, October 14, 2023
7:30 a.m. - 3:15 p.m.
Duke Eye Center 
AERI Auditorium
Contact: DukeEyeEvents@Duke.edu
Location and Parking
AERI Auditorium at Duke Eye Center
2351 Erwin Rd, Durham, NC 27710
Parking
Parking can be found at the Research Dr. Parking Garage:
Research Drive and Erwin Road, Research Dr, Durham, NC 27705
There will be directional signs that lead you to the AERI Auditorium
Hotel Information
Agenda
7:30 AM       Breakfast & Exhibit Viewing
7:50 AM       Welcome
                     Julia Rosdahl, MD, PhD
8:00 AM       Wellness for Eye Doctors
                     Julia Rosdahl, MD, PhD
8:20 AM       Case Presentations
                     Glaucoma Fellows:
                     Ricky Cui, MD
                     Glaucoma Fellow
                     Faculty Discussant
                     Stuart McKinnon, MD, PhD
8:35 AM       Keynote Speaker: Global Outreach and Education Bridging the Gap
                     Oluwatosin U. Smith, MD
                     Glaucoma Associate of Texas
9:35 AM       Home Monitoring for Glaucoma
                     Joanne Wen, MD
9:55 AM       Sustained Released Medications for Glaucoma
                     Katy Liu, MD
10:15 AM     Break
10:30 AM     Panel on Patient Communication/Education
                     Surgery, Pediatrics, Medication Aids
                     Frank Moya, MD
                     Sharon Freedman, MD
                     Jill Koury, MD
11:00 AM     Fellow Debate: NTG vs. POAG - 1 Disease or 2?
                     Glaucoma Fellow Debaters:
                       - Kristi Wu, MD
                       - June Si, MD
                       - Abhinab Golla, MD
                       - Basil Matthews, MD
                     Faculty Discussant:
                       - Pratap Challa, MD
                       - Henry Tseng, MD, PhD
12:00 PM     Lunch
12:45 PM     Vision Rehabilitation
                     Pearls for Glaucoma Patients
                     Omar Mohiuddin, OTR/L, MS, MPH, CLVT
1:15 PM       Keynote Speaker
                     Mobility in Glaucoma: A Consequence, A Cause, or A Cure?
                     Pradeep Yammanuru Ramulu, MD, PhD
                     Professor of Ophthalmology, Johns Hopkins Wilmer Eye Institute
2:15 PM       Research Round-Up
                    Trainees and Mentors:
                      - Alice Choi, MD, Resident & Divakar Gupta, MD
                      - Nick Johnson, MS & Leon Herndon, MD
                      - Sahil Aggarwal, MD & Leon Herndon, MD
3:00 PM       Closing Remarks and Adjourn
Previous Events
The 33rd Annual Glaucoma Symposium held October 9, 2021 is now available online for CME credit.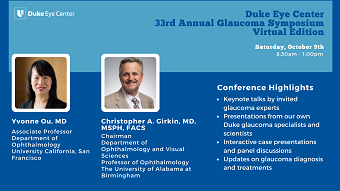 The 32nd Annual Glaucoma Symposium held September 26, 2020 is now available online for CME credit.