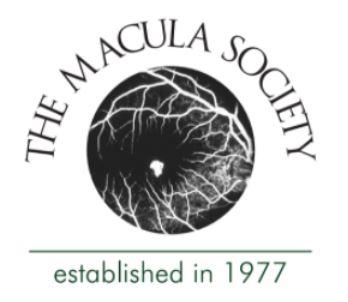 Duke retina and uveitis specialist Glenn J. Jaffe, MD was appointed Macula Society President at the close of the 45th annual meeting this week. 
Founded in 1977, the Macula Society is a forum for new research in retinal vascular and macular diseases. Membership is by application, with acceptance criteria including extensive contribution to retinal literature. The Macula Society recognizes outstanding achievement by its members and others through awards and lectures, and holds an annual meeting open to members, their guests, co-authors, and supporting company representatives.
Several Duke faculty presented during the meeting. 
Durga Borkar, MD
Characterizing Real-World Functional Outcomes in Patients with Geographic Atrophy: An IRIS Registry Analysis
Dilraj S. Grewal, MD
Retrospective analysis of imaging from patients treated with brolucizumab in the post-marketing setting with reports of intraocular inflammation, retinal vasculitis and/or retinal vascular occlusion
Glenn J. Jaffe, MD
Personalized Treatment Interval (PTI) Dosing Dynamics Over 2 Years in the Phase 3 YOSEMITE and RHINE Trials of Faricimab in Diabetic Macular Edema
Prevalence, Incidence, and Progression of Macular Atrophy (MA) in Eyes With Neovascular Age-Related Macular Degeneration (nAMD) Over 96 Weeks in the Phase 3 Archway Trial of the Port Delivery System With Ranibizumab (PDS)
Retrospective analysis of imaging from patients treated with brolucizumab in the post-marketing setting with reports of intraocular inflammation, retinal vasculitis and/or retinal vascular occlusion
Eleonora Lad, MD, PhD
Geographic Atrophy Lesion Growth in Pegcetacoplan-treated Study Eyes Versus Untreated Fellow Eyes in Patients with Bilateral GA in the OAKS, DERBY, and FILLY Trials
Efficacy of Pegcetacoplan in Subgroups Defined by Distance From the Foveal Center Point in the Phase 3 OAKS and DERBY Studies of Patients With Geographic Atrophy
Cynthia Toth, MD
Longitudinal Choroidal Development in Preterm Infants
Lejla Vajzovic, MD
Longitudinal Choroidal Development in Preterm Infants