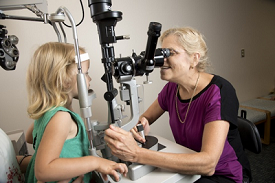 Duke Eye Center offers pediatric eye care led by prominent physicians who are internationally recognized for their contributions to advancing patient care. Duke's state-of-the-art care helps thousands of children restore or improve vision. 
Duke Eye Center is consistently ranked among the top 10 in the nation by U.S. News & World Report. 
Duke Eye Center provides compassionate and cutting-edge preventive, diagnostic, and therapeutic services to pediatric patients including, but not limited to;
To make an appointment, call 919-681-3937.