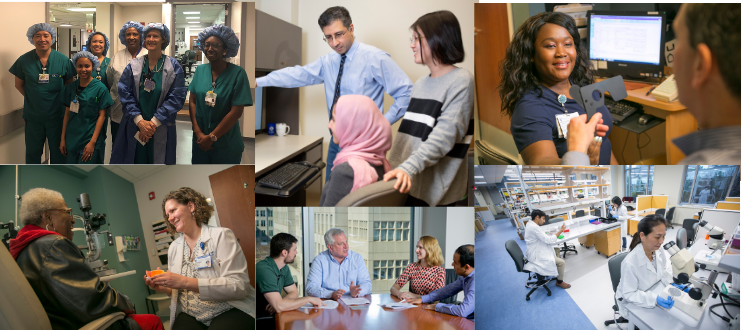 The Department of Ophthalmology is one of 23 clinical and basic science departments within Duke School of Medicine and is one of the leading eye institutions in the world. For more than 30 years Duke Ophthalmology has been consistently ranked in the Top 10 best ophthalmology hospitals by the US News and World Report.  Our internationally-renowned clinical and research faculty are dedicated to curing eye disease worldwide though excellence in research, teaching, and patient care.   We take pride in living Duke's guiding principles of trustworthiness, respect, diversity, learning and teamwork.  
Duke Eye Center is the clinical and physician practice that provides patient care, an entity of the Private Diagnostic Clinic. 
Located in Durham, NC, we offer our employees excellent benefits with numerous perks such as health care, retirement accounts, child and family benefits, employee discounts, health and wellness programs and more.  
Duke Department of Ophthalmology and Duke Eye Center offer exciting employment opportunities in a variety of areas.  If you are seeking a fast-paced, challenging position in an organization committed to achieving and maintaining a standard of excellence in all we do, please take a moment to explore the job opportunities here at Duke.
---
Working at Duke
Duke employees are part of a premier organization dedicated to excellence in education, research, and patient care. By working at Duke, we gain the opportunity and the responsibility to make a real difference in the world. Take a closer look to find out why and whether you can help contribute to the legacy of great achievement and even greater promise at Duke.  
Residency or Fellowship Training
See our residency and fellowship pages for more information about opportunities in these areas.
Why Choose Duke
Opportunity to work alongside and collaborate with leaders in all areas of ophthalmology. We are fortunate to be a tertiary referral center for many ophthalmic conditions including; ophthalmic oncology, ocular immunology, retinal genetics and to have some of the most talented clinicians and scientists in ophthalmology at Duke. 
Access to a to all Duke University academic, clinical and basic research departments in close proximity to the main Duke Eye Center location.
Excellent benefits package.
In 2020, Forbes named Duke a "Best Employer For Diversity" - Duke ranks 8th out of 500 large companies. Duke has also earned praise from organizations such as the Chronicle of Higher Education, AARP, NC Nurses Association, DiversityInc and Carolina Parent.
About Durham and the Triangle Area
Duke University is located in Durham, North Carolina, one of three cities — Durham, Chapel Hill, and Raleigh — that form North Carolina's famed Triangle Region. Each of the cities is home to a major research university. The triangle area, with a combined triangle-wide population of more than a million people, boasts a robust intellectual climate and broad cultural diversity.
The triangle region is located halfway between the Great Smoky Mountains and the beaches of the Atlantic, Durham is a community that is home to over 300 restaurants, more than 40 annual festivals, Duke and North Carolina Central universities, Durham Bulls Triple-A baseball, art and science museums and world-class medical facilities, just to name a few. With more than 5.2 million visitors annually, Durham is the top destination of arrivals at RDU International Airport.
Schools in Durham
Durham has a diverse population, an innovative school system, numerous private and charter schools, two storied universities, and a technical college to make sure Durham gets smarter.
Learn more about North Carolina and the Surrounding Area
---
For more information contact:
Michael Flintosh, MBA
HR Director, Duke Ophthalmology
michael.flintosh@duke.edu
919-684-0415