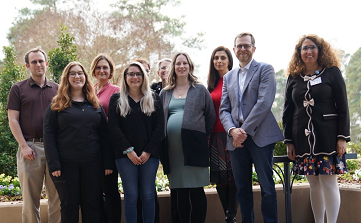 The Duke Neuro-Ophthalmology Division is led by prominent physicians who are internationally recognized for their contributions to advancing patient care.  The Department's state-of-the-art neuro-ophthalmology care helps thousands of patients restore or improve vision.  The division is a leader in diagnosing and managing patients of all ages with complex neuro-ophthalmic conditions. Subsequently, the division receives numerous referrals and complex cases from across the nation each year.   
Dual fellowship trained Neuro and Pediatric Ophthalmologist Chantal Boisvert, MD serves as division chief and leads a highly-experienced team of three fellowship-trained faculty and one PA.  The Neuro-Ophthalmology division is a leader in research, education and clinical care.   
Mission
Provide the best possible care for diagnosis, treatment and surgical interventions for pediatric patients with common and complex neuro-ophthalmic conditions 
Discover important new knowledge about causes, mechanisms, diagnosis and treatment of pediatric eye conditions and diseases 

Translate research innovations into new care modalities 

Train the next generation of pediatric ophthalmology leaders 
Highlights
Duke Neuro-Ophthalmologists lead and collaborate with other physician scientists within the department, health system and across the country.  Notable areas of Neuro-ophthalmology research include:  
OPEN-UP—multi-center prospective study comparing the efficacy of cerebral venous sinus stenting to cerebrospinal fluid diversion in treatment of idiopathic intracranial hypertension with moderate vision loss. Collaboration with Neurosurgery Department. 
Transgenic animal models of optic atrophy and retinal signaling dysfunction due to dysfunction of  mitochondrial respiratory complex I, supported by a National Eye Institute K08 award, Research to Prevent Blindness Career Development Award, and Duke University School of Medicine Strong Start Award.   

Intraoperative optical coherence tomography angiography of retinal microvascular perfusion during cardiac surgery. Collaboration with the vitreoretinal service and Biomedical Engineering, Anesthesiology, and Surgery Departments. Previously funded by Duke CTSI Translational Accelerator award, with NEI R21 application under review. 

Looking at the relationship between optic nerves and brain development in premature children. 

Co-PI pediatric optic pathway gliomas in NF-1 study. National observational study to evaluate the progression of optic pathway gliomas in children with NF-1. 

Undiagnosed disease network collaborator. Description of ocular findings in undiagnosed diseases. National multicenter observational genetic study.  
Upcoming. Pediatric idiopathic intracranial hypertension. National multicenter observational study of idiopathic intracranial hypertension 

Upcoming. Observational. Fundoscopic imaging of infantile nystagmus syndrome funded by LCI industries. 
Develop in trainees with a fundamental understanding of neurologic eye disease and management and promote intellectual curiosity 

Dedicated to the principle that research into disease mechanisms, patient care, and new technologies is the primary method by which we improve the outcomes of our patients.   
The neuro-ophthalmology fellowship is one year in duration with a portion of their time dedicated to research pursuits and the remaining devoted to patient care and clinical education.  The division actively engages in trainee education and cutting edge clinical and fundamental research.  

Fosters a stimulating, highly challenging, and highly-rewarding environment for the medical school students, residents, and fellows that comprise the department's educational program 

Provides training to peer intuition trainees such as UNC's Ophthalmology Residents 
Manage conditions such as Optic neuropathies including optic neuritis, papilledema, ischemic optic neuropathy, pseudopapilledema  
Treatment for disorders including Anisocoria, Diplopia, Myasthenia Gravis, Thyroid Eye Disease, Giant-Cell Arteritis and Brain Tumor/Lesion Causing Vision Loss  

Perform surgeries, including temporal artery biopsy, optic nerve sheath fenestration, anterior orbital biopsy, and eye muscle surgery/strabismus repair   

Perform Botox injections for hemifacial spasm and blepharospasm, and periocular/occipital nerve blocks for patients with severe neuropathic pain 

Eye stroke clinic in collaboration with neurology 

Strong working relationship with a variety of physicians from other specialties such as neurology, neurosurgery, neuroradiology, rheumatology, otolaryngology, medical oncology, and radiation oncology from within health system and beyond