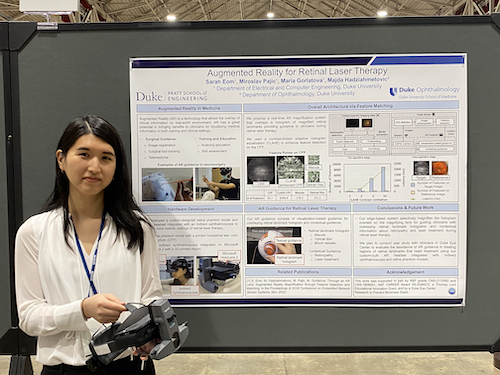 Sarah Eom, PhD student in the Pratt School of Engineering, will present her research on "Edge-based Augmented Reality (AR) Guidance System for Retinal Laser Therapy via Feature Matching" at the 22nd International Conference on Information Processing in Sensor Networks held May 9-12, 2023 in San Antonio, TX. She also presented this research at the Association of Research in Vision and Ophthalmology (ARVO) annual meeting in April of this year.  
Sarah was the recipient of the 2023 Duke Eye Center Research to Prevent Blindness Grant and is being mentored by Majda Hadziahmetovic, MD, Miroslav Pajic, PhD, and Maria Gorlatova, PhD. 
Her research, as demonstrated in the video below, involves the use of an AR-based selective magnification system to guide clinicians during retinal laser therapy by providing retinal landmark holograms and contextual information.
Reference: IPSN '23: Proceedings of the 22nd International Conference on Information Processing in Sensor NetworksMay 2023Pages 366–367 https://doi.org/10.1145/3583120.3589814