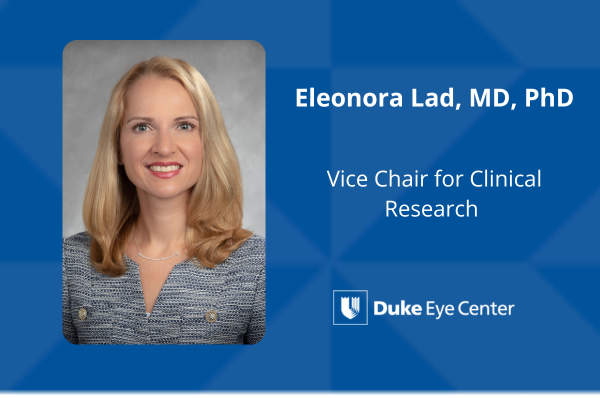 Duke Eye Center is proud to announce that Eleonora Lad, MD, PhD has been named Vice Chair for Clinical Research. Lad is a clinician scientist and retinal ophthalmologist with an extensive background in research, both as an investigator and in her role as Director of Clinical Research Unit (CRU). Most recently, Lad was the principal investigator in the OAKS trial, a pivotal clinical trial that supported the development of the first FDA-approved treatment of dry age-related macular degeneration (AMD).  
 Lad will begin her new role on  July 1, 2023. She will succeed Cynthia Toth, MD, whose outstanding leadership has been instrumental in the success of Duke Eye Center's clinical research activities and reputation. Toth is stepping down at the end of June after serving in the role since July 2021. 
 "Lad has extensive background in this area both as an investigator and in her recent role as the CRU Director. I look forward to working with her in this role and the expertise she brings to our leadership team at Duke Eye Center," said Edward G. Buckley, MD, chair Duke Ophthalmology.