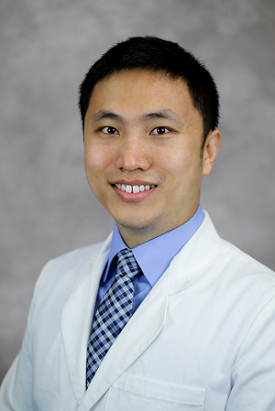 Congratulations to James Tian, MD as the 2021-2022 recipient of the Machemer Resident Research Award! This award is bestowed upon the resident or fellow whose proposal presents the highest level of originality, scientific design/methods, clinical relevance, and feasibility of completion in a one-year period.
His project is titled "Can robotically aligned Optical Coherence Tomography (RAOCT) improve ophthalmic patient care in an ophthalmology resident-driven emergency room setting?" under the mentorship of Anthony Kuo, MD. Tian will present the findings during the 2022 Duke Ophthalmology Scientific Session (Residents and Fellows Day) on June 3rd. 
It was another competitive year as Duke Ophthalmology residents are doing groundbreaking research and all the proposals show passion for advancement of ophthalmic science. 
Stefanie Schuman, MD
Chair, Robert Machemer Resident Research Award Committee
Pratap Challa, MD, Melissa Daluvoy, MD, Mays El-Dairi, MD, Sina Farsiu, PhD, Jason Liss, MD, Kelly Muir, MD, Grace Prakalapakorn, MD, MPH, Alex Snyder, MD
Robert Machemer Resident Research Award Committee Members