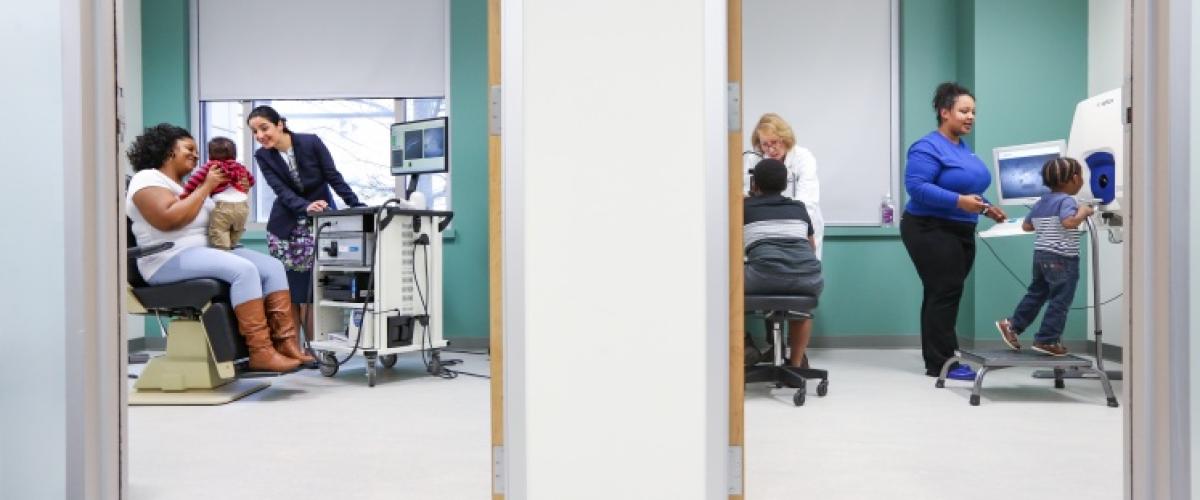 Duke Eye Center's Pediatric Clinic now includes the Pediatric Eye Imaging Suite and offers accommodations to all pediatric patients requiring eye imaging.
Located right inside the pediatric clinic, the suite includes the Duke Pediatric Retina and Optic Nerve Center (DPROC), one of few centers across the United States to treat pediatric patients with complex retinal and optic nerve diseases.
The new facility offers children access to the same cutting-edge imaging technologies available to adult patients, in addition to new child-specific imaging equipment placed in a child-friendly environment.
Previously, children who required eye imaging had to navigate across Duke Eye Center to an area that focused on serving adult patients. The Pediatric Eye Imaging Suite offers convenience for families and a specialized place for kids so they may feel more comfortable in a clinical setting.
Made possible with the commitment and vision of Duke Eye Center's Cynthia Toth, MD, Sharon Freedman, MD, Lejla Vajzovic, MD, and Mays El-Dairi, MD, along with generous support from Mr. James Andrew, we have the opportunity to expand research capability.
Prior to adapting optical coherence tomography (OCT) technology to be assessable for young children, it was solely used for adult eye imaging. However, we were aware that this was
overlooking critical in-depth information that would help diagnose and manage pediatric patients. By identifying problems earlier, there is higher possibility for healthier eyes later in life.
The Duke Pediatric Eye Imaging Suite is the epicenter for pediatric eye care and research that will transform patient care for years to come