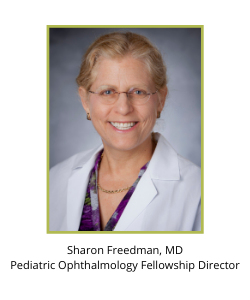 About the Pediatric Fellowship Program
The Duke Pediatric Ophthalmology and Strabismus Fellowship is offered under the direction of Sharon Freedman, MD. Additional faculty members include; Edward G. Buckley, MD; Mays El-Dairi, MD; Laura Enyedi, MD; Tanya Glaser, MD; Sara Grace, MD; and Grace Prakalapakorn, MD.
 
The Pediatric Ophthalmology and Strabismus Division has clinical facilities both in the "Main" Duke Eye Center on Erwin Road, as well as clinics at the South Durham, Raleigh, and Holly Spring satellite offices.  The Main clinic, in the Albert Eye Research Institute (AERI) building, has a large waiting area, 13 clinical examination lanes, and an adjacent pediatric imaging suite.  Fellows also practice at North Carolina Eye Ear Nose and Throat, which is a Duke Health practice. 
The main surgical facility for our patients is in the adjacent Wadsworth and Hudson buildings, with six fully equipped operating rooms, as well as a nearby ambulatory surgical center for selected strabismus and plastics cases.  Pediatric consults and our Retinopathy of Prematurity (ROP) rounds occur in the connected Duke University Hospital North.
Duke Ophthalmology is consistently ranked in the top ten for the U.S. News & World Report Annual Hospital Rankings, for more than 30 years.  
Three clinical fellows are usually selected each year.  The clinical fellowship is one year in length.  Interested candidates may apply for an additional one-year research fellowship position, typically completed following the clinical year, but occasionally before the clinical year.
Clinical Experience 
The clinical experience covers all aspects of pediatric ophthalmology and strabismus.  Duke Eye Center pediatrics sees more than 20,000 patients annually. In addition to experience with pediatric and adult strabismus, the fellowship provides in depth experience in anterior segment pediatric cases (primarily but not limited to cataract and childhood glaucoma).  Exposure to pediatric plastics includes nasolacrimal procedures, ptosis repair, and dermoid removal, as well as enucleation.  There will be in depth exposure to Retinopathy of Prematurity screening and treatment, as well as management of pediatric neuro-ophthalmologic disorders, and electroretinography.  Experience with retinoblastoma management, pediatric vitreoretinal disorders, and aphakic contact lens fitting is available.  The fellow is an active part of the surgical team which performs more than 1,000 surgical procedures annually.
Research
The clinical fellow will be mentored and encouraged to actively engage in a clinical research activity aimed at successful publication and abstract submission to the American Association for Pediatric Ophthalmology and Strabismus (AAPOS) annual meeting during the fellowship year. 
Requirements: Full North Carolina medical licensure required. We do not accept training licenses.
Application: The deadline for application is in the fall of the year before fellowship training is to begin and approximately two months before the fellowship match deadline. To apply, visit SF Match to apply. Two letters of reference are needed as part of the application process. Applications will be reviewed by the fellowship committee and, if appropriate, an interview invitation will be extended. 
We do not provide immigration sponsorship for Clinical Associates.
For more information contact Brittany Jones at Duke Eye Center, DUMC Box 3802, Durham, NC 27710, call 919-684-4584 or email brittany.jones244@duke.edu.