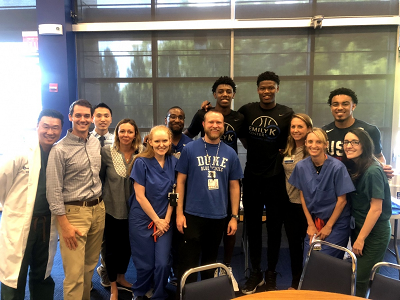 The Duke Cornea Service is the largest tertiary referral center for corneal disease in North Carolina. Duke fellows care for patients with a wide range of pathology, and see patients in Duke Eye Center clinics.
Medical training includes diagnosis and treatment of corneal/conjunctival infections, dystrophies, and other diseases as well as utilization of corneal imaging  (topography/tomography, high resolution anterior segment OCT, and confocal microscopy).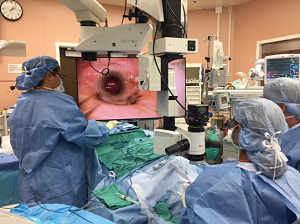 Surgical Training
The clinical fellow will assist in 500 to 1,000 surgical procedures during the year and function as the primary surgeon in 100 to 200 surgical procedures; including corneal transplantation (DMEK, DSAEK, DALK, PKP, and Boston keratoprosthesis type 1), cataract surgery (with LenSx, Verion and ORA), intraocular lens exchange, anterior segment reconstruction, ocular surface disease and tumors (tumor excisions, limbal stem cell transplants, and other ocular surface reconstruction), and refractive surgery PRK, LASIK, INTACs, implantable collamer lenses, and corneal crosslinking). The fellow is an integral part of the service and participates in all aspects of clinical management.
The Cornea fellows work closely with the attendings on the service:  Melissa Daluvoy, MD, Terry Kim, MD, Anthony Kuo, MD, Victor Perez, MD, and Lloyd Williams, MD, PhD as well as other members of the Duke Eye Center. 
Educational Conferences
Cornea fellows participate in a variety of conferences hosted by Duke Ophthalmology.  The Cornea fellows lead monthly Cornea Conferences for the ophthalmology residents by presenting different aspects of corneal disease. They also participate in a regular Journal Club led by the Cornea faculty to discuss advanced clinical cases. Along with regular Ophthalmology departmental Grand Rounds led by Duke ophthalmology residents, the fellows attend a variety of renowned visiting lectureships.
The Cornea Division also hosts an annual "Controversies in Cornea and Cataract Surgery" conference that attracts several neighboring ophthalmologists and optometrists from North Carolina and surrounding states. 
Cornea fellows have an opportunity to submit and present research at national meetings such as AAO, ARVO, ASCRS. 
For more information contact program coordinator Liana Igescu at Duke Eye Center, DUMC Box 3802, Durham, NC 27710, by telephone 919-681-3568 or email at liana.igescu@duke.edu.