Educational Conferences
Cornea fellows participate in a variety of conferences hosted by Duke Ophthalmology.  The Cornea fellows lead monthly Cornea Conferences for the ophthalmology residents by presenting different aspects of corneal disease. They also participate in a regular Journal Club led by the Cornea faculty to discuss advanced clinical cases. Along with regular Ophthalmology departmental Grand Rounds led by Duke ophthalmology residents, the fellows attend a variety of renowned visiting lectureships.
The Cornea Division also hosts an annual "Controversies in Cornea and Cataract Surgery" conference that attracts several neighboring ophthalmologists and optometrists from North Carolina and surrounding states.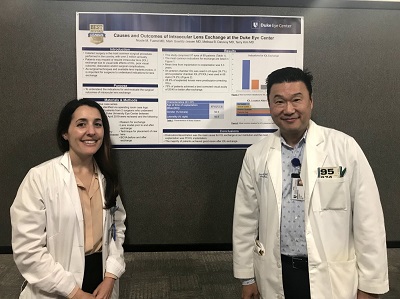 Research Opportunities
Cornea fellows are strongly encouraged to pursue original research, and present their work annually at the Duke Ophthalmology Resident and Fellow Scientific Symposium held at the end of the academic year.
Fellows have an opportunity to submit abstracts and present research at annual meetings of the American Academy of Ophthalmology (AAO), Association for Research in Vision and Ophthalmology (ARVO), and American Society of Cataract and Refractive Surgery (ASCRS).  
Opportunities exist to work with our basic science faculty, imaging laboratory, eye bank, and with the clinical faculty as well.
For more information contact the Duke Cornea Fellowship Program Coordinator, Liana Igescu at Duke Eye Center, DUMC Box 3802, Durham, NC 27710, by telephone 919-681-3568 or email at liana.igescu@duke.edu.