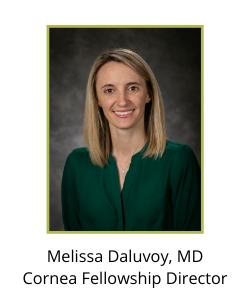 About the Program
The mission of the Duke Cornea Fellowship program is to train future cornea specialists in the medical and surgical management of cornea, external disease, and refractive issues.
The Duke Cornea Fellowship program, with its inception in 1979, has trained numerous cornea sub-specialists over the last 40 years. Graduates of this program have become leaders in academic and private medicine worldwide. With a focus on in depth clinical and surgical training, Duke fellowship trained sub-specialists are at the forefront of their field. 
The Cornea Fellowship Program is registered with the Association of University Professors of Ophthalmology (AUPO) fellowship compliance program and meets guidelines set forth by the AUPO fellowship compliance committee. 
The Duke Ophthalmology Cornea Fellowship is a clinical one-year program. This year consists of intense medical training including clinical and surgical rotations with the Duke Cornea specialists at the main Duke Eye Center and occasionally at our satellite locations.  The program also includes a specific learning track at Miracles in Sight Eye Bank. 
Requirements
Full North Carolina medical licensure (not a training license) 
Note: we do not accept a training license; international medical school graduates who do not qualify for a North Carolina Medical license cannot be offered fellowship positions. We do not provide immigration sponsorship for clinical associates.
Applications
We participate in the SFMatch and consider all applications submitted by the deadlines posted on the SFMatch site.  
Fellowship for Foreign Nationals
We do not provide immigration sponsorship for Clinical Associates.
For more information contact the program coordinator Rebecca Strickland at Duke Eye Center, DUMC Box 3802, Durham, NC 27710, by telephone 919-681-3568 or email at rebecca.strickland@duke.edu.