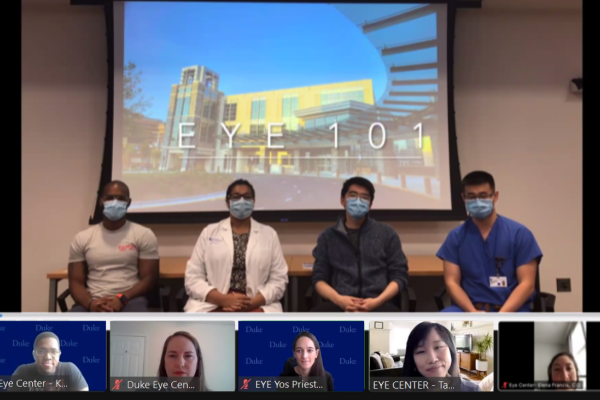 On a sunny Saturday in late March, Duke Eye Center team members from all over the Triangle logged in on Zoom to host scholars from the Duke School of Medicine BOOST program for a virtual visit to the Duke Eye Center (DEC). The BOOST Program is geared toward 6th, 7th, and 8th graders in the local Durham community who are from populations underrepresented in STEM, especially African American, Latino/a, Native American, girls, and students from economically disadvantaged backgrounds. By bringing science alive in a multifaceted and interactive way, BOOST hopes to inspire and support their scholars to be the future of the professional STEM field.
During a typical year, the BOOST scholars participate in monthly Science Saturdays where they engage in hands on science experiments in addition to several field trips to explore a variety of STEM careers. In 2020, COVID-19 brought a halt to all in-person sessions and field trips. As many of us also experienced this past year, this tasked the BOOST program with finding a way to recreate the experience via virtual platforms.
At Duke Eye Center we were eager to take on the challenge and share our love of all things eye with the BOOST scholars. Our entire team pulled together over several months to create new virtual content to be shared via a Zoom platform field trip.
Our clinical and research teams collaborated to create a virtual tour of the eye center clinical and research spaces which allowed the BOOST scholars to have a behind the scenes look at the daily happenings of the Eye Center.
Duke Medical students from the Ophthalmology Interest Group, Terry Lee, Nicholas Johnson, Arathi Ponugoti, and Justin Ma, created a video on eye health topics covering cataracts, glaucoma, and refractive error. They were also present live during the field trip to discuss their journey so far as Duke Medical Students and offer advice on pursuing medicine as a career.
Duke Eye Center Ophthalmology residents, Tammy Hsu, MD and Kevin Jackson, MD, created a "Day in the life of an Ophthalmology Resident" video and participated live to share the challenges and rewards of an ophthalmology residency at Duke.
Several DEC team members also joined live to talk about the wide variety of roles within the Eye Center. Jen Elfring a physician assistant in the neuro-ophthalmology division, Omar Mohiuddin an occupational therapist in the Vision Rehabilitation and Sports Vision division, Anupama Horne, MD the division chief of the Comprehensive Ophthalmology Service, and Elena Francis an orthoptist in the Pediatric Ophthalmology and Strabismus division all participated in live sessions with BOOST scholars. They discussed what they love about their careers and what they might be doing if they were not in the ophthalmology field.
Dr. Angel Zeininger from the Duke Anatomy Department provided an in depth look at eye anatomy with a very interesting sheep eye dissection video. She highlighted the similarities and differences between human eyes and sheep eyes.
Finally, Nora Lad, MD from the Retina Division, shared a fun and interactive session on optical illusions which made us all question what our eyes and brain were telling us. She used some popular illusions as well as famous pieces of art to demonstrate how the brain pathways that help us decode our visual world can also be tricked into perceiving color, motion, and shapes.
In a whirlwind two hour visit we hope to have shared a little bit of what we love about ophthalmology and inspire some future colleagues to chase their dreams. We hope the Duke Eye Center collaboration with the BOOST program does not end here, we plan to continue to be involved in a variety of roles in the future to foster mentorships and create pathways toward success for as many scholars as possible. Furthermore, our virtual tour materials will now be available on our Duke Eye Center website so other programs can access them and hopefully be inspired by the content to consider ophthalmology as a career field.
---