The Duke University Residency Training Program in Ophthalmology is one of the most highly regarded ophthalmology programs in the nation. The goal of the program is to train highly competent and ethical physicians who can contribute to their field either as comprehensive ophthalmologists or as subspecialists.
Duke has been training excellent professionals in eye care since the 1940s and has graduated more than 400 ophthalmologists, with many entering into academic positions.  The residency program includes three full years of ophthalmology training as well as an integrated internal medicine internship year, which includes three months of early ophthalmology exposure. The residency program includes both clinical and surgical training in each of the subspecialty areas as well as in comprehensive ophthalmology.  Residents also rotate through local Veterans Administration Hospitals.  A broad spectrum of intradepartmental and university-wide research opportunities exists for interested residents.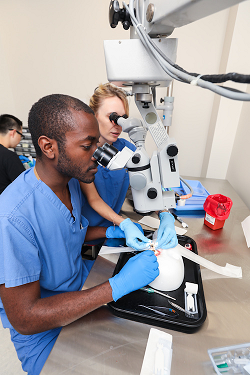 Through a unique elective program, Duke ophthalmology residents are able to spend a rotation during their final year of training pursuing an experience tailored to their individual research or clinical interests (whether around the country or around the world) to help jump start their future careers.  Past residents have taken part in laboratory research, worked with the U.S. Food and Drug Administration Center for Drug Evaluation and Research, and participated in international humanitarian eye care efforts. Previous residents have traveled to Tanzania, India, Singapore, Syria, and Nepal.  
 
The Department of Ophthalmology maintains a chief resident position, typically filled by a graduate of the residency program.  The chief resident leads morning rounds on weekdays, providing a daily forum for discussion of challenging diagnostic problems, previous admissions, surgical management, and administrative issues.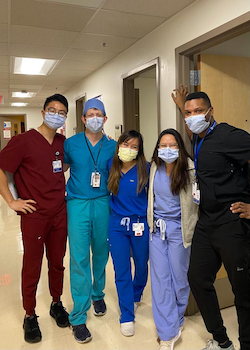 Perhaps the greatest strength of the Duke Eye Center is the quality and breadth of the faculty in the Department of Ophthalmology. The full-time faculty consists of more than 80 clinicians and researchers across all ophthalmology subspecialty areas.  These individuals are highly accomplished and productive academicians, and a number are considered leaders in their fields. Without exception, the faculty members enjoy teaching and contribute their time and energy generously to the Residency Training Program.