About Duke Eye Center
Duke Eye Center is an internationally-renowned academic medical institution dedicated to curing eye disease worldwide though excellence in research, education, and patient care. Specializing in all areas of ophthalmology, it is a top ranked program by the U.S. News & World Report Best Hospitals survey since the survey began almost 30 years ago.
Our robust educational program includes an ophthalmology residency program, fellowship programs in all ophthalmology specialties, and ophthalmic education for the Duke University School of Medicine. We have a long-standing training program for Ophthalmic Technicians. Our newest addition is our recently established optometry residency in pediatrics. We also offer a host of continuing education programs for ophthalmology and optometry colleagues locally, regionally, nationally, and internationally.
---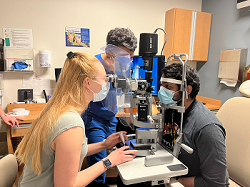 Ophthalmology at Duke University School of Medicine
Ophthalmology is integrated throughout Duke's innovative 4-year medical school curriculum. During the first year, students are exposed to the visual system, the basics of the eye exam, and causes of vision loss. Second year students can choose to spend 2 weeks exploring Ophthalmology during one of their 2-week Selective blocks. Third year students can spend their scholarly year working on a research project with our research scientists; this year includes clinical opportunities through the continuity clinic experience with our clinicians. During the fourth year, students can choose to spend 4 weeks in Ophthalmology for a 4-week Elective offered throughout the year. We also offer an 8-week lecture course in the winter, geared for students headed to residencies in Ophthalmology, Internal Medicine, Family Medicine, Pediatrics, and Emergency Medicine. Duke medical students also have an active Ophthalmology Interest Group with professional, social, and community service activities.
Duke University School of Medicine
---
Medical Student Education at Duke Eye Center
The Duke Eye Center welcomes medical students. In addition to the formal Selective, Elective, and 3rd Year Research Program, Duke medical students can be found shadowing our clinicians, working on clinical, translational, and basic science research projects with our scientists, and volunteering for community outreach opportunities and more. Visiting medical students can spend 4 weeks at the Duke Eye Center on a clinical elective. 
Virtual Elective Application deadline: June 30, 2023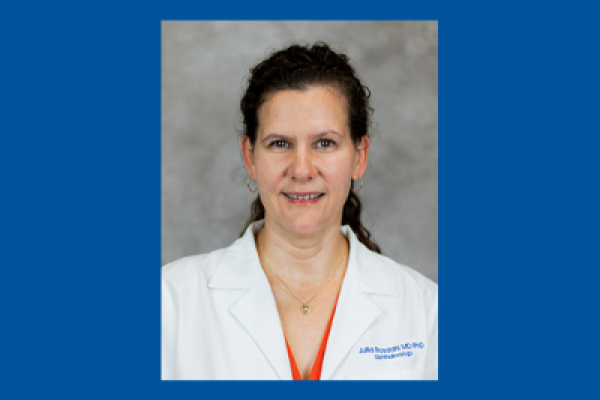 Jullia A. Rosdahl, MD, PhD
Course Director
Medical Student Administrative Contact
Crystal Wright 
919-684-6622