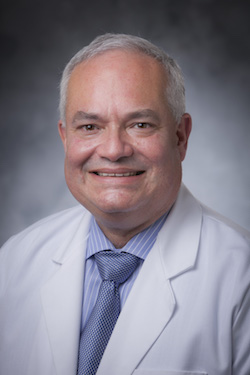 The Foster Center for Ocular Immunology, led by Victor Perez, MD is a multidisciplinary program of distinction that provides individualized care for patients suffering from ocular surface disease and is focused on basic, clinical and translational research to better understand the disease and improve treatment.
Diseases of the ocular surface can cause severe pain and highly affect a patient's visual function and quality of life. To better serve our patients, the center has developed a specialized clinical unit where patients are examined by expert corneal ophthalmic specialists, in addition to modalities in evaluation and diagnosis and medical and surgical treatment.
The center offers ocular surface protective devices such as Boston Prosthetic Replacement of the Ocular Surface Environment (PROSE). PROSE is a unique contact lens that is custom made to protect and heal the ocular surface while also correcting refraction errors in order to simultaneously rehabilitate patients' vision.
For further treatment, the use of stem cell based therapy has become a major area of research. With this program, the patients' own cells can be used for the treatment of their ocular surface diseases.
Director Victor Perez, MD outlines the immediate goals of the center to be to develop a patient and family friendly outpatient facility that optimizes patient care, establish an Ocular Surface Educational Fellowship Program, and create a research program in biomarkers of ocular surface disorders.
In the near future, the Foster Center for Ocular Immunology hopes to become a national and international leader in ocular surface diseases through leadership in basic and translational research, clinical trials, and excellent patient care.