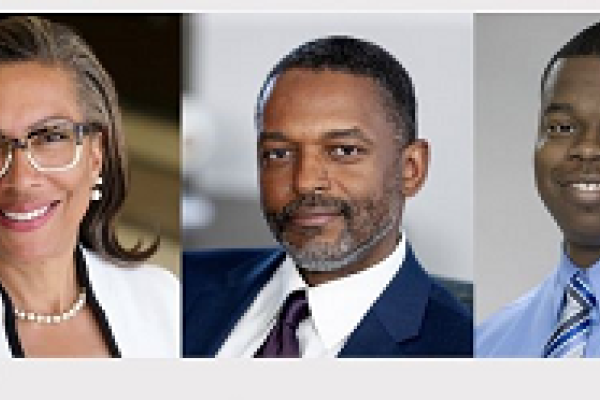 Two weeks after the murder of George Floyd, Duke Eye Center Chief of Glaucoma, Leon Herndon Jr., MD, joined a panel to discuss the topic of race and diversity in ophthalmology. The conversation was featured on Episode 240 Straight from the Cutter's Mouth: Race in America and Improving Diversity in Ophthalmology a podcast hosted by Dr. Jayanth Sridhar for the American Academy of Ophthalmology (AAO). Dr. Herndon was joined by two of his colleagues, ophthalmologists Dr. Tamara Fountain and Dr. Basil Williams.
In this episode, the group first discusses their personal reactions to the murder of Floyd and the resultant sociopolitical unrest throughout the country. Dr. Herndon speaks of the conversations he has had with his own family, and the fact that he is heartened by the willingness of young Americans to engage in difficult conversations with peers from various backgrounds.
Special consideration is given to the state of diversity within the field of ophthalmology, in which only 2.5% of physicians are Black. Dr. Herndon highlights the commitment of Duke Eye Center to diversity not only in words, but also in action. He notes that the increased enrollment of African American trainees to the ophthalmology residency program at Duke is a sign that the institution is heading in the right direction.
In his closing remarks, Herndon reemphasizes that the importance of diversity in ophthalmology extends beyond improved patient outcomes. He suggests that diverse groups tend to possess more creativity and offer unique opportunities for innovation and collaboration. A commitment to maintaining a robust pipeline of diverse applicants to ophthalmology therefore sets the stage for the advancement of the field.
---