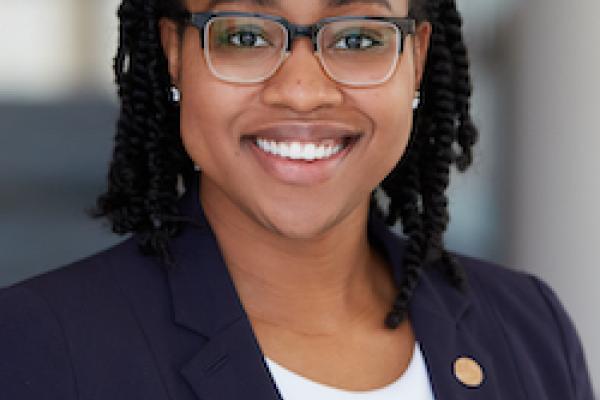 Kirsten Simmons is a 4th year medical student at Duke University School of Medicine, applying to ophthalmology. She is also completing a Master's of Theological Studies at Duke University Divinity School as a Theology Medicine and Culture Fellow. Within Duke SOM, some of her greatest joys have included serving as the Co-President of the Student National Medical Association- Duke chapter, where she served as an advocate for underrepresented minority trainees.
My training within the humanities thus far has taught me that everyone has a value system which dictates decision making, whether big or small. Through identifying and honoring a patient's value system (which is often crafted multi-dimensionally over a lifetime), one can become more compassionate and effective at understanding adherence practices, delivering news of a diagnosis and guiding patients through variable contingency plans; all critical components of the ophthalmology specialty. Therefore, I was excited to hear Dr. Leon Herndon pose the following question to our team before beginning surgical cases one day: 
"How might patients of the Islam faith consider the XEN Gel stent for their glaucoma disease?"
It was a simple yet insightful question; one that we would aim to discuss collectively throughout my few weeks on the department's General Ophthalmology elective.
The XEN Gel stent is classified along the micro invasive glaucoma surgeries (MIGS) for glaucoma treatment. This stent is composed of porcine (pig-derived) gelatin that is cross-linked with glutaraldehyde; a composition that helps it achieve permanent hydrophilic properties within human tissue. 
However, according to Islamic purity law, pork and pork products are impure, and people of Islam faith do not partake in its consumption. Despite most medically used gelatins going through various types of radiation and chemical processing that yield it to be "acellular" of porcine components, many Muslims still forbid usage of such.
Thankfully, I had the privilege to connect with a few Muslims within my social circle to gain insight into their interpretation of this specific purity law and how it might impact their options for this glaucoma surgical procedure. I crafted four questions to inquire about their desire for pre-op counseling, what language of inclusivity should look like within counseling, what factors contribute to their personal decision making, and whether or not they believe they would ultimately accept the XEN Gel stent for glaucoma management.
Question #1: "Would you want information of this device's material composition (porcine-derived gelatin) made known to you?
Unanimous: information regarding the device's composition should be acknowledged within pre-op counseling.
Question #2: "After receipt of this information, how would you proceed with your medical decision?"
One contributor stated they would be willing to receive this device, as long as the Imam (spiritual leader/prayer leader) stated that this medical decision was permissible. They believed that XEN use may be permissible if solely used for preservation of sight. 
Another contributor stated that they would reject this device, and ask for other options, even if those alternative options had lower success rates.
Question #3: "How do you learn about which medications and medical products are permissible for you to use in accordance with your religious beliefs?" 
One contributor stated that their elders and family members give them guidance on what is acceptable and what is not. They additionally seek out information on Google and drug profile pages.
Another contributor stated that they conduct a lot of their own research on the internet. They additionally ask pharmacists and members of their community about medication components. 
Questions #4: "How can physicians offer pre-op counseling/ inquire of patients' religious preferences in an inclusive way?"
Consider the following phrase for pre-op counseling of the XEN Gel stent:
"There are multiple surgical devices that we can insert into the eye, to help reduce its pressure. Based on your presentation, our team believes that the XEN Gel Stent would treat this appropriately for you. (Introduce overview of procedure). Of note, the XEN Gel Stent is made of durable gelatin that is porcine (pig) derived. Some patients may have specific religious beliefs that prevent them from using this device. Would this be a concern of yours?"
In light of the different interpretations and ultimate decisions that patients of the Muslim community may have and make, it is imperative that physicians acknowledge the uniqueness of all patients and their dependency on spiritual leaders to aid them in medical decision making. Some patients may only choose the XEN Gel stent if it is their last resort, whereas others may entertain the option sooner within their treatment plan. Above all, informing all patients that this particular device is porcine derived, provides the greatest transparency of this particular surgical option. As a result, the physician should prepare a surgical contingency plan for patients who may reject the XEN Gel stent in an open-minded manner.
I am grateful for the opportunity to have taken the General Ophthalmology elective.  As a 4th year medical student who chose ophthalmology "late", I was eager to complete my checklist of learning objectives, much of which centered upon clinical skill observation and demonstration. However, the most impactful component of this elective was engagement in the question of how we can tangibly become more inclusive in our language and practice within the ophthalmology department. This experience (and hopefully further research in this topic!) demonstrated that one must not simply bring diverse perspectives and values to a workplace, but audibly engage with others about them. It is my hope that the latter approach will continually yield genuine patient-physician trust, communication and shared decision making.
---