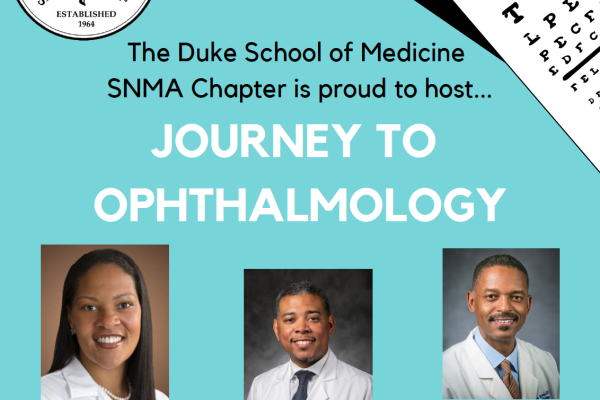 Featuring Ninita Brown MD PhD (Duke Med and Glaucoma Alumna)
Organized by Duke Med Students Nick Johnson & Kirsten Simmons
With Duke's Leon Herndon MD & Thomas Hunter MD
On Wednesday evening, March 17th, Duke medical students Kirsten Simmons and Nick Johnson organized an informative session about ophthalmology featuring Ninita Brown MD PhD.  Dr. Brown is a practicing glaucoma specialist in at the Thomas Eye Group in Atlanta, Georgia, and an alumna from Duke School of Medicine and Duke Eye Center's Glaucoma fellowship.  She is also the president of the Ophthalmology Section of the National Medical Association.  The session began with a great overview of Ophthalmology as a specialty by Dr. Brown, where she highlighted the need for more black doctors especially in ophthalmology; she also shared some of her own formative experiences in ophthalmology. 
A wonderful group of undergraduate and medical students attended, as well as Duke resident Kevin Jackson MD and glaucoma fellow Obi Umunakwe MD PhD who offered their guidance.  Duke Eye Center's Leon Herndon MD and Thomas Hunter shared their paths to ophthalmology; both Dr. Herndon and Dr. Hunter noted a powerful desire to train and educate future ophthalmologists.  Questions the students asked included how the ophthalmologists on the panel chose their subspecialty within ophthalmology and about whether disparities in care existed in ophthalmology as they do in other areas of medicine.  Dr. Herndon and others noted that this was indeed the case within ophthalmic care and brought up the example of "normative" databases for optic nerve imaging that do not include people of African descent.  The panel also discussed the importance of patient-doctor concordance (aka, having a doctor that looks like you) and adherence to treatments and care.
The program ended with Dr. Brown soliciting advice for medical students just matching into and soon to be applying to ophthalmology: Dr. Umunakwe's advice to the new residents: "Don't let the little things trip you up." Read, be responsible, and be a hard worker.  In Dr. Simmons' advice for the applicants, she highlighted Rabb Venable program and the "fireside chats" they hosted with residency program directors, and the importance of networking.  This was echoed by Dr. Brown who noted that networking and connections are "crucial" to one's success especially for minority candidates.
Dr. Brown's passion regarding the impact black doctors can have on the health and well-being of black populations as practicing ophthalmologists was evident throughout the program, amplified by the panel, and inspiring to the medical students and future ophthalmologists attending.
---