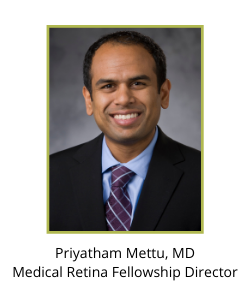 About the Program
The Duke Medical Retina Fellowship is a one-year program that includes three fellow positions.  This program allows strong well-rounded exposure in all areas of medical retina including Macular Degeneration, Diabetic Retinopathy, Retinal Vascular Diseases, Retinal Degenerations  and Dystrophies, Uveitis, and Ocular Tumors, as well as protected time for research. Clinical training includes time spent with Glenn Jaffe, MD, Alessandro Iannaccone, MD, MS, FARVO, Miguel Materin, MD, Priyatham Mettu, MD and Ramiro Maldonado, MD. interaction with all retina faculty in conferences, journal clubs, and rounds. 
Application
Please submit your USMLE scores, CAS Application, and 3 letters of reference as well as the following items to be considered for the Duke medial retina fellowship. 
One additional letter of reference from a professional who knows you.
A current photograph.
Copies of your undergraduate, graduate, and medical school transcripts.
You may mail these documents to Courtney Gentry, Medical Retina Fellowship Coordinator, 2351 Erwin Road, Box 3802, Durham, NC 27710 or scan and email to courtney.gentry@duke.edu.