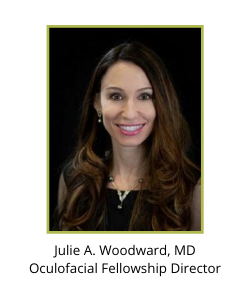 About the Program
Duke hosts an ASOPRS approved Oculofacial and Orbital Surgery Fellowship Program that is comprised of clinical training and research components. The position title for the fellow is clinical associate, which allows the participant to function as a junior faculty member in the Department of Ophthalmology. There are two tracks available.
The two-year Oculofacial and Orbital Surgery Fellowship program offers a high volume and a variety of procedures.  The program is dedicated to specific training and projects involving basic science or clinical research in areas including oculofacial, orbital and cosmetic laser surgery. 
Clinical training
The clinical demands provide a stimulating environment for learning and gaining clinical and surgical skills. Clinical training includes time spent in the office with the patients of the attendings on the service: Julie A. Woodward, MD, Amy Fowler, MD, and Jason Liss, MD as well as other members of the Duke Eye Center.
 
The clinical fellow will assist in 500 to 1,000 surgical procedures per year and function as the primary surgeon in 100 to 200 surgical procedures consisting of blepharoplasty, ptosis repair, orbital surgery, lacrimal surgery and cosmetic laser surgery. Additionally, the fellow is an integral part of the service and participates in all aspects of case clinical management. The clinical and surgical exposure to an extremely wide variety of pathology involving the eyelids and orbit as well as many cosmetic procedures are considered major strengths of the fellowship.
Research
Opportunities exist within the Department of Ophthalmology as well as other services within the medical center including Neurosurgery, Otolaryngology, Dermatology and Plastic Surgery.
Basic requirements
Full North Carolina medical licensure (not a training license).
Fellowship for Foreign Nationals
We do not provide immigration sponsorship for Clinical Associates.
 
For more information contact Trina Capps at Duke Eye Center, DUMC Box 3802, Durham, NC 27710, by telephone 919-684-4224 or email at trina.capps@duke.edu.