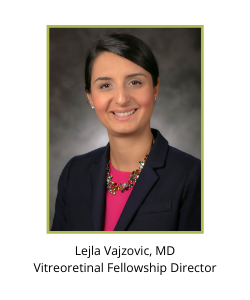 About the Program
The mission of the two year Duke Vitreoretinal Surgery Fellowship program is to foster and support your professional development into a highly skilled, cutting-edge vitreoretinal surgeon with an insatiable intellectual curiosity in a collaborative, collegial, and supportive tertiary care environment with high quality and experienced mentoring.  
For more than 40 years the Duke Vitreoretinal Surgery Fellowship has trained over 90 vitreoretinal surgeons who have a strong presence in academic retina.  Former Duke fellows have become department chairs, endowed professors,  innovators, and leaders in clinical care and research around the world.  The breadth and depth of mentorship, clinical and research experience available in the Duke Vitreoretinal Fellowship is unparalleled and provides the experience, tools, and confidence to succeed.
The Vitreoretinal Surgery Fellowship Program is registered with the Association of University Professors of Ophthalmology (AUPO) fellowship compliance program and meets guidelines set forth by the AUPO fellowship compliance committee.
Fellowship Applications
See SFMatch website for instructions on completing the Central Application Service (CAS) application. Please assure that we receive the following items in addition to your USMLE scores, CAS Application, and 3 letters of reference by August 13, 2021. 
1. One additional letter of reference from a professional who knows you 
2. A good quality current photograph 
3. A good quality copy of your undergraduate, graduate, and medical school transcripts
You may mail these documents to Jessica Hill, Vitreoretinal Surgery Fellowship Administrative Director, 2351 Erwin Road, DUMC 3802, Durham, NC 27710 or scan and email to jessica.p.hill@duke.edu. Interviews will be held October 30, 2021.
Fellowship for Foreign Nationals
Duke does not provide immigration sponsorship for fellows.  However, we have many visitors who come for a maximum of one year to observe vitreoretinal clinics and surgery and research, but hands-on patient care is not permitted.  If you would like to come for a visit as a "Visiting Observer" or "Visiting Research Scholar" please contact:  Jessica Hill, Duke Eye Center, Box 3802, Durham, NC 27710 or by telephone 919-684-8434 or by e-mail at jessica.p.hill@duke.edu.