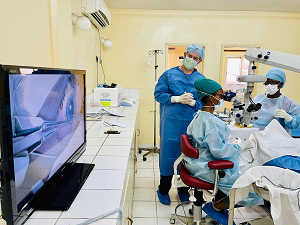 Advancing research, education and access to eye care across the globe 
For nearly two decades, Lloyd Williams, MD, PhD, a corneal specialist, has been leading global outreach initiatives to nations including Nepal, Guatemala, Zambia and Sierra Leone. Since 2001, he has made 15 trips to Africa.
The newly established Duke Global Ophthalmology program, led by Williams, associate professor of ophthalmology, will support infrastructure, and expand global efforts by Duke Eye Center physicians. There are at least 2.2 billion people worldwide who have vision impairment or blindness. With access to modern eye care, vision loss could be prevented or treated in at least 1 billion of those people. The world faces considerable challenges in eye care including inequalities in the coverage and quality of prevention, treatment and rehabilitation services, a shortage of trained eye care providers, and poor integration of eye care services into health systems, among others, according to the World Health Organization (WHO).
With international recognition for innovation in ophthalmology, physicians at Duke Eye Center deliver specialized care to hundreds of thousands of patients each year in Durham and surrounding area satellite clinics. Equally significant, is the commitment to delivering essential eye care and ophthalmology training to under-resourced regions around the globe.
To address eye care in underserved regions across the globe, Duke Eye Center clinicians and scientists have traveled to countries to help those in need primarily on an ad hoc basis, leveraging their own international connections. "The newly established Duke Global Ophthalmology program will enable broader global efforts. Most importantly this work will help reduce avoidable blindness and human suffering," said Williams. Two dynamic missions in 2021 bear witness to the reach of Duke Eye Center and the passion of exceptional doctors.
Sierra Leone, West Africa
In July 2021, Williams returned to Sierra Leone to perform the first ever corneal transplant surgeries in the country. During this trip—delayed nearly a year due to the pandemic—he spent two days working with a local team of surgeons under his supervision, conducted eight life-changing corneal transplants which restored the vision of patients who were blind in both eyes.
Williams worked with Jalika Mustapha, MD, who leads The National Eye Programme in Sierra Leone; and John Mattia, MD and Lloyd Harrison Williams, MD both ophthalmologists serving in the country.
Mustapha's position allows her to invite leaders in ophthalmology, such as Williams, to come train in-country physicians in hopes that other doctors in Sierra Leone will develop the skills to conduct these surgeries, and ultimately be equipped to open and operate their own eye care facilities.
Williams relied on the local doctors to select transplant candidates who had the greatest potential for a positive outcome. The patients selected suffered blindness from result of Keratoconus or Fuchs' dystrophy, or another factor such as a corneal scar or trauma. An additional, critical consideration in choosing the candidates for corneal transplant surgery was their ability to engage long-term in essential follow-up treatments.
One patient in particular, a mother of four, who had been bilaterally blind for nearly 30 years— and had never seen her husband or children— gained sight in one eye. It was an emotional scene for everyone when during her day-two post-op examination the woman saw her 15-year-old daughter for the very first time.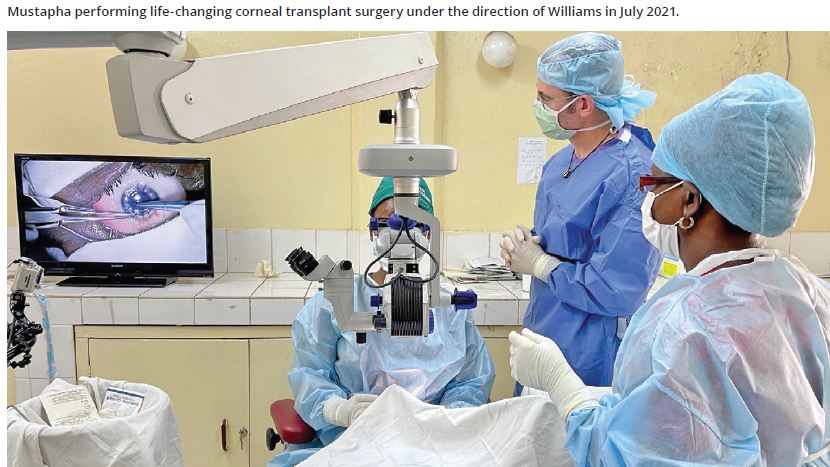 "We've had amazing cases in the past, but never a situation as incredible as this," Mustapha shared. "All week our patient was discovering new things, and 'meeting' people whom she had never actually seen before, including her husband and all four of her children. Her life was truly changed."
Having completed hands-on surgical training with three local doctors, including Mustapha, and with nearly 20 surgeries complete, Williams carried out immediate post-op care while guiding his colleagues through specific treatment plans for each patient.
News of the successful corneal transplants traveled quickly, creating an opportunity for Williams and Mustapha to attend a meeting with Sierra Leone's Minister of Health.
"Typically, we don't get a lot of support for eye care in Sierra Leone," said Mustapha. "But these surgeries really put us on the map in terms of eye health. We are so grateful for Dr. Williams' help."
Williams left Sierra Leone more determined than ever before to take steps that will produce progress and create hope for thousands of people in Western Africa in need of expert eye care. His aim is to grow the Duke Global Ophthalmology program—starting with the addition of a Duke Global Ophthalmology Fellow that will go to Sierra Leone and other countries to teach and train. In addition, there is tremendous need for funding to support the purchase of ophthalmic imaging cameras that can be used in remote areas and coupled with development of a system by which Artificial Intelligence (AI) is then utilized to help diagnose and treat conditions like glaucoma, retinal diseases, etc.
"My vision for Duke Global Ophthalmology is that we'll partner with hospitals worldwide to train and equip ophthalmologists to become skilled surgeons," said Williams. "I am fortunate to work among so many renowned experts—each one a specialist in their unique field of ophthalmology —who are committed to improving global healthcare, and specifically eye care. I am convinced that, together, we have the potential to help eliminate blindness around the world."
US Virgin Islands
Since residency, Grace Prakalapakorn, MD, MPH, associate professor of ophthalmology and pediatrics, affiliate faculty at the Duke Global Health Institute, and Director of International Outreach for Duke Eye Center specializing in pediatric ophthalmology, has been active in providing essential healthcare to those who need it most in a variety of places around the world, including countries in Africa and Asia.
In March of 2018, Prakalapakorn was an integral member of a health brigade hosted by the U.S. Virgin Islands (USVI) Department of Health (DOH) in collaboration with the U.S. Center for Disease Control (CDC). The brigade was deployed to the USVI to deliver recommended Zika virus-related pediatric vision, hearing, neurological and  developmental health screenings to infants in the territory born to mothers with laboratory evidence of exposure to the virus during pregnancy. 
Prakalapakorn led the health brigade team again in July 2021—postponed a year due to the COVID-19 pandemic—to provide ophthalmological screenings to those who were initially invited in 2018, along with others who were referred by healthcare and educational providers or in whom there were developmental concerns.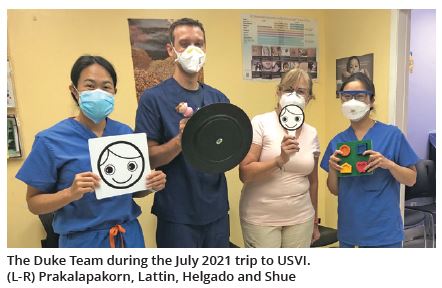 She coordinated a roster of six eyecare providers, including Duke Eye Center Orthoptist, Sandra Holgado, former pediatric ophthalmology fellows from across the country; Derek Bitner, MD, Daniel Lattin, MD and Ann Shue, MD, and Angeline Nguyen, MD from Children's Hospital of Los Angeles, who along with other physicians, audiologists, nurses and administrative support staff delivered pediatric eye care services throughout the two-week mission. Together they granted dedicated services to more than 170 children.
"It was an honor to once again serve with the health brigade and be part of a team that was helping to meet the health and eye care needs of the children of the US Virgin Islands," said Prakalapakorn. "I see a tremendous opportunity to bring people together from every level and function of Duke Eye Center to grow the Duke Global Ophthalmology program in order to make a positive impact on people's lives through education and clinical care."
These are just two examples of global outreach that Duke Eye Center faculty led or participated in the past year.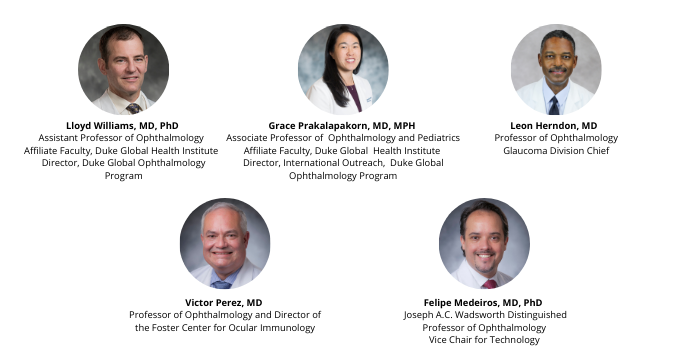 Other Duke Eye Center Global Outreach
For more than 20 years, Leon Herndon, MD, professor of ophthalmology and glaucoma division chief, has traveled to Ghana, West Africa to treat glaucoma, and has been engaged in ongoing research projects evaluating the high prevalence of primary open angle glaucoma in the region and the differential burden of glaucoma on African-derived populations. Expanding his reach in Africa, Herndon recently began collaborating with Mustapha to develop a plan for glaucoma treatment in Sierra Leone.
Victor Perez, MD, professor of ophthalmology and director of the Foster Center for Ocular Immunology leads an international education program with events held several times a year, that offer the opportunity for ophthalmologists to learn from Duke and other international experts. Currently, they are focused on South America, with plans to expand to other regions as the Duke Global Ophthalmology Program grows.
Felipe Medeiros, MD, PhD, Joseph A.C. Wadsworth Distinguished Professor of Ophthalmology and vice chair for technology is an internationally recognized expert in the development of innovative methods to diagnose and detect glaucoma progression as well as the assessment and prevention of functional impairment in the disease. Medeiros his team have established a one-of-a-kind database created at Duke that can help researchers conduct large-scale, complex diagnostic studies using artificial intelligence (AI) and deep learning models. The model that Medeiros and his team have created could be replicated to assist in the telemedicine plan for the Global Ophthalmology Program.
While activities have taken place and faculty have served in several different capacities, there has not been a formal, dedicated focus to the program. The strategic framework of the Duke Global Ophthalmology Program will enable Duke Eye Center to build upon decades of successful outreach, education, research, and patient care efforts and make an even greater impact on global eye health and vision.