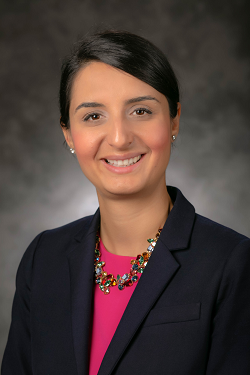 Duke Eye Center is participating in two pivotal gene therapy clinical trials, ATMOSPHERE and ASCENT that may become promising treatments for age-related macular degeneration.  The studies, are large multisite trials, and Duke is the lead site for ASCENT and Lejla Vajzovic, MD is the lead PI for the trial. 
Atmosphere and Ascent are pivotal trials are expected to support Biologics License Application (BLA) submission for RGX-314 in 2024. Both are phase III clinical trials aiming to develop RGX-314 as a one-time gene therapy for the treatment of wet AMD. Wet AMD is a significant cause of vision loss, so the positive results of these trials would lead to treatment for those with Wet AMD and other difficult to treat retinal diseases.
 Both treatments involve a novel gene therapy that essentially turns the eye into a "biofactory" that produces its own medicine. 
"This research is exciting because it could offer a one-time treatment approach," says Lejla Vajzovic, MD, associate professor of ophthalmology. "It may be a permanent fix for patients." 
In the treatment, a modified virus is injected into the eye. The virus contains engineered genes and cannot make people sick.  Once in the eye, the virus spreads genes to other cells, where they produce a protein that slows or halts the disease process. 
"We are introducing a novel gene that expresses medicine continuously in the eye," Vajzovic says.
The results have been quite promising thus far.