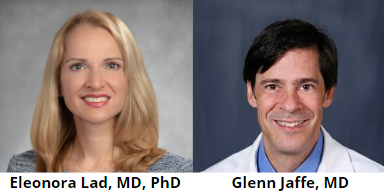 Apellis Phase 3 DERBY AND OAKS study in Geographic Atrophy (GA)
Eleonora Lad, MD, PhD is the lead principal investigator in the Apellis DERBY AND OAKS study in Geographic Atrophy (GA) with Duke as the lead site. Promising top line data at 24 months shows increased effects over time with intravitreal pegcetacoplan in phase 3 DERBY and OAKS GA, secondary to age-related macular degeneration, which causes blindness in the center field of vision, eventually leading to permanent vision loss. These findings were reported on August 24, 2022.
It is estimated that 1 mission people in US suffer from geographic atrophy (GA), an advanced form of dry age-related macular degeneration (commonly referred to as AMD). Duke retina researchers, for years, have been involved with clinical trials to find treatments for GA. Their work is becoming a reality for the first ever treatment for GA. In the Apellis press release, Lad notes, "I am thrilled to see the increased effects over time, which suggest that pegcetacoplan is preserving more and more photoreceptor cells that are directly responsible for vision," said Eleonora Lad, M.D., Ph.D., lead principal investigator for the OAKS study, associate professor of ophthalmology, director of ophthalmology clinical research unit, Duke University Medical Center. She also notes "The vision loss caused by GA is devastating for patients, taking away their ability to perform critical daily tasks like driving, reading, and recognizing faces. It is very exciting to finally be on the brink of the first potential GA treatment with pegcetacoplan." 
Zimura® GATHER2 Phase 3 Clinical Trial in Geographic Atrophy
Positive top line results from the Zimura® GATHER2 phase 3 clinical trial were reported on September 6, 2022. Duke reading center led by Dr. Jaffe, professor of ophthalmology, vitreoretinal division chief, is one of the largest in the world and was the lead reading center for the trial. It was a group effort combined with the work of the Duke Reading Center Readers, Mike Allingham, Nora Lad, Prithu Mettu and Dilraj Grewal with Jaffe serving as the on-call macular neovascularization reader. This trial, along with the positive GATHER1 data, will hopefully support a successful FDA NDA to get the drug approved for AMD-associated geographic atrophy.
These trials indicate groundbreaking research  that will hopefully lead to FDA-approved treatments for those suffering with GA, as there are no other treatments currently available.