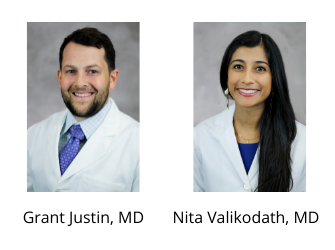 Congratulations to Duke retina fellows Grant Justin, MD and Nita Valikodath, MD whose videos were selected among the top 20 entries for the Vit-Buckle Society (VBS) Fellows Foray 2022 Surgical Video competition. 
(Mentors: Cynthia Toth, MD and Durga Borkar, MD)
A record high number of submissions were received, and the Review Committee members had the difficult task of selecting the 20 best videos from a pool of many terrific entries. 
Of the 20 fellows who are awarded a travel grant, the top 8 will be selected over the next few weeks, by the VBS and Connect committee members, to present their surgical video at the Fellows' Foray the evening of March 24th. A committee of CONNECT Network members will award the single best video the prestigious $1,500 CONNECT Network Grant and a limited edition VBS belt buckle. 
The 10th Annual Vit-Buckle Society (VBS) Meeting happening at the Aria, in Las Vegas March 24 – 26, 2022.