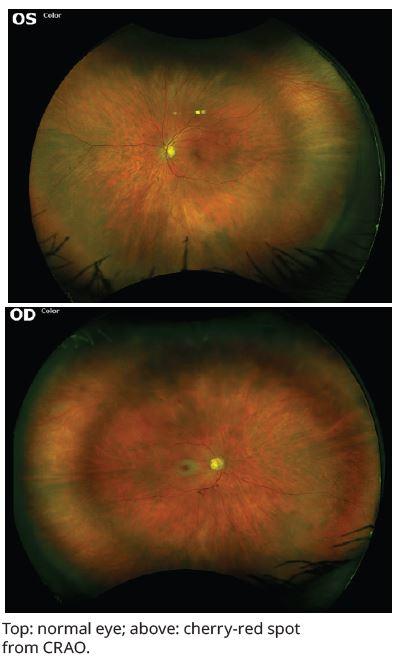 Reducing the Impact of Vision Loss
The Duke Eye Stroke Clinic opened in August 2021 for patients who have experienced eye stroke and are beyond the emergency phase of their care. It offers expertise in neurology and neuro-ophthalmology paired with advanced vision testing capabilities in one location.  The clinic, combined with Duke's leading emergency hyperbaric medicine services and vision rehabilitation center, offers a comprehensive approach to eye stroke care. 
Co-led by Chantal Boisvert, OD, MD, associate professor of ophthalmology and neuro-ophthalmology division chief and Brian Mac Grory, MB, BCh, MRCP (UK), assistant professor neurology and the 2020 recipient of the American Heart Association/American Stroke Association Stroke Progress and Innovation Award for his research examining treatment for CRAO. 
This distinctive multidisciplinary clinic specializes in the treatment of patients with central retinal artery occlusion (CRAO) and other strokes affecting vision pathways in the brain and has the potential to dramatically reduce the burden on people affected by eye stroke. The collaboration helps to clear communication among the specialists on a patient's care team. 
The Duke Vision Rehabilitation and Performance center, led by Diane Whitaker, OD, assistant professor of ophthalmology and includes dedicated ophthalmic occupational therapists to help patients address performance challenges in activities of daily living and functional mobility following the loss of vision in one eye.  Patients are referred to Whitaker or an occupational therapist following their treatment in the Eye Stroke Clinic. 
"We are excited to offer this unique combined clinic that will improve the care of patients suffering from retinal artery occlusion –  two specialties seeing patients on the same day in the same clinic not weeks apart, provides a convenience for the patient and allow us to manage the patient more effectively – together." says Boisvert.  Having vision rehab right down in the same building is an added benefit for our patients to help them learn to live a normal life with vision in one eye."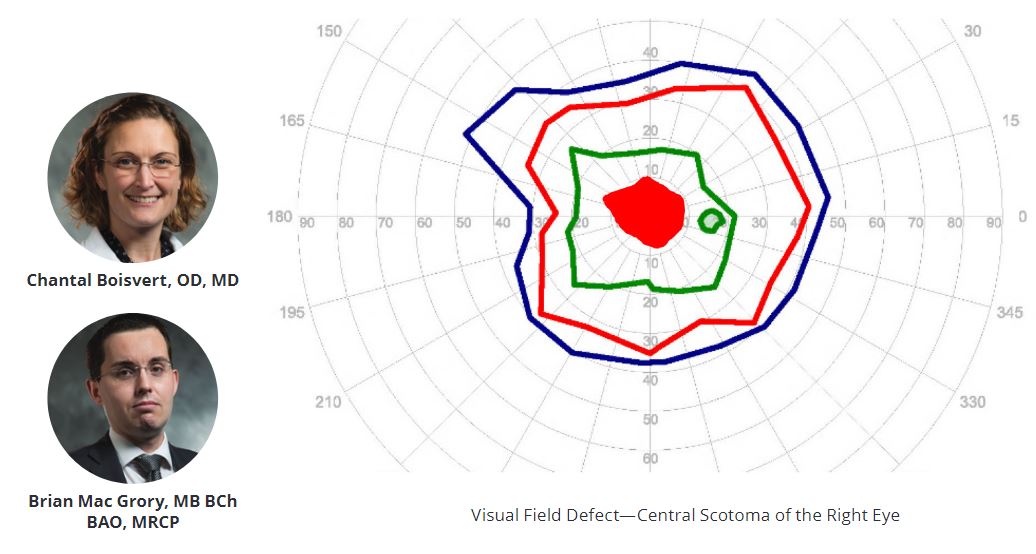 Emergency Treatment – Key to Impact on Vision Loss 
Most strokes present with weakness, facial droop, or difficulty speaking.  Eye strokes are hard to recognize and treat in a timely manner because the only symptom may be sudden blindness in one eye. Patients with sudden vision loss should immediately go to the ED before seeing a PCP or specialist to reduce the impact of the sudden vision loss.  
"When we think of strokes, we think of obvious symptoms, but eye strokes are a hidden menace; they do not have any of the symptoms that most people associate with stroke," Mac Grory says. 
Duke is fortunate to have a large multidisciplinary emergency team capable of delivering advanced therapies—including a premier hyperbaric oxygenation program.  Perhaps most importantly, the Duke telestroke network and ambulance/helicopter capabilities mean we can rapidly transfer patients from other parts of North Carolina and surrounding states to receive these treatments. 
Eye Stroke Detection - Vascular Conditions and Risk of Future Stroke 
Boisvert and Mac Grory collaborated together on a study published in the August 2021 issue of Stroke, that demonstrated eye stroke may be the first sign of atrial fibrillation, a common, underdiagnosed heart rhythm problem that is associated with an increased risk of future stroke.  
"The rate of AF detection after CRAO is higher than that seen in people without CRAO but who are otherwise the same in terms of age and risk factor profile and comparable to that seen after a person has an ischemic cerebral stroke," Boisvert and Mac Grory explain. "Paroxysmal AF should be considered as part of the differential etiology of CRAO, and those patients may benefit from long-term cardiac monitoring." 
Research and training for residents and fellows are also among the priorities.  Mac Grory and Boisvert are establishing a detailed registry of patients with eye stroke which will provide sorely needed data on the long-term impact of eye strokes, the effect of treatment and the risk of future stroke.   
Boisvert and MacGrory hope that the Duke Eye Stroke clinic can lessen the impact and improve overall health for patients suffering from eye stroke in the North Carolina region and create a model for other multidisciplinary centers to establish a similar approach to make progress in outcomes of eye stroke care across the country.