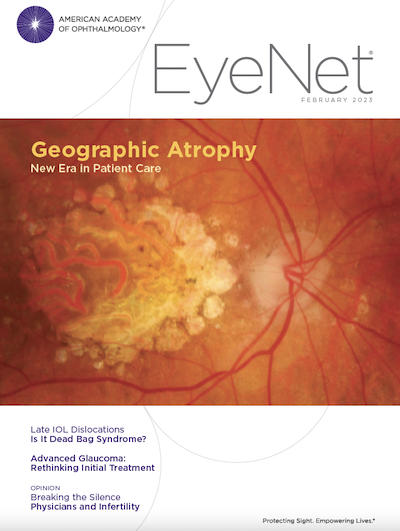 Eleonora Lad, MD, PhD was featured in the February cover article for AAO EyeNet magazine which focused on two novel drug therapies that are showing promise in slowing the progression of geographic atrophy (GA).  These therapies are poised for FDA approval by the end of the month. 
Lad is the lead Internataional investigator for the OAKS trial, the first large phase 3 trial in GA that met its primary endpoint. 
Early intervention is the key to preserve vision.  The feature also focuses on high-reso­lution OCT imaging and deep-learning algorithms that have revealed subtle biomarkers, which have helped fine-tune the diagnostic criteria for GA and define the targets for new therapies. "We feel that OCT is best because it allows 3D and high-resolution visualization to diagnose atrophy more accurately," Lad said. 
"...the future of GA treat­ment is bright. The science and the biomarkers have improved substantially in the past few decades. All of these new advances will help patients going forward," said Lad. 
Geographic atrophy is an advanced form of dry age-related macular degeneration (AMD) that can lead to progressive and permanent vision loss. There has been no viable treatment option for GA.  This absence of treatment has presented a considerable gap in patient care, considering that the disease poses a significant risk of blindness.  The therapies that are anticipated to be approved by FDA are the first ever to treat GA. 
This is selected content from the February 2023 EyeNet Magazine © 2022 American Academy of Ophthalmology. Full article can be found here