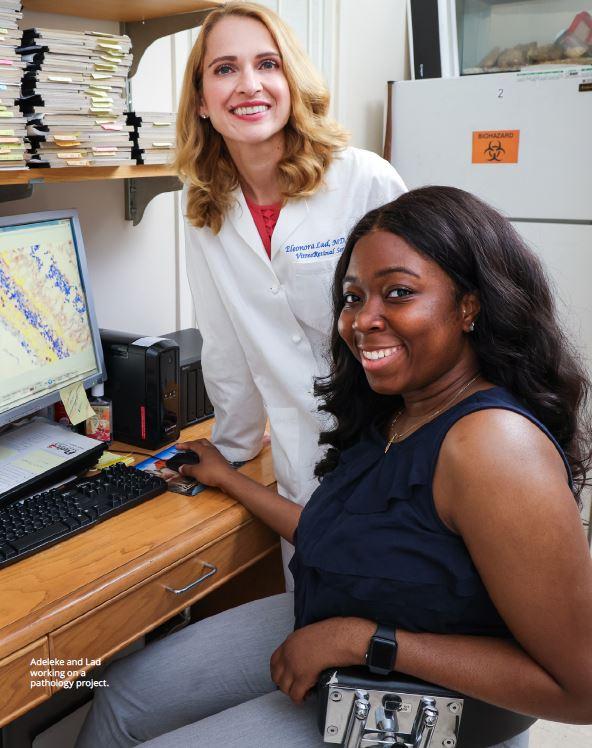 "This internship gave me an unmatched opportunity to learn from doctors who are the best at what they do — it truly solidified my passion for ophthalmology and inspired me to tap into my inquisitive nature and seek out research opportunities in this field," Temi Adeleke, Duke Eye Center, 2021 Summer Research Intern.   
Temitope ("Temi") Adeleke already has a number of "firsts" under her belt. She is a first generation American, the first in her family to pursue a doctoral degree and most recently, the first Underrepresented Minority in Medicine (URiM) Medical Student Summer Research Intern at Duke Eye Center.   
Adeleke earned a bachelor's degree from University of Maryland and is currently a first-year medical student at Southern Illinois University Medical School.  She discovered her interest in ophthalmology shortly before finishing her undergraduate degree, while working as an ophthalmic technician at a small ophthalmology practice in Chevy Chase, Maryland.  She credits the doctors and staff she worked alongside at Children's National Hospital in Washington D.C. with encouraging her to actively pursue the practice of ophthalmology by creating opportunities for her to observe clinics and assist with hands-on patient care.  
In early 2021, after applying to medical school, Adeleke joined an online community of minority students who were pursuing careers in medicine and came across an opening for the URiM Summer Research Internship at Duke Eye Center. Recognizing the importance of gaining research experience and with just days remaining before the deadline, she submitted her application for consideration. Then finally, after weeks of waiting, Adeleke received the good news that she'd been chosen to participate in the eight-week internship. 
"Ophthalmology has a severe deficit of underrepresented minorities.   We are thrilled to add the summer research internship to our efforts to recruit underrepresented medical students to the field," said Goldis Malek, PhD, vice chair for diversity and inclusion in Ophthalmology. 
Custom-Designed Program 
The first of its kind at Duke Eye Center, the organizers of the internship program along with her mentors, structured a learning environment specifically for Adeleke — personalizing it to meet her unique goals and providing her with the chance to shadow world renowned researchers and clinician-scientists from a variety of subspecialties.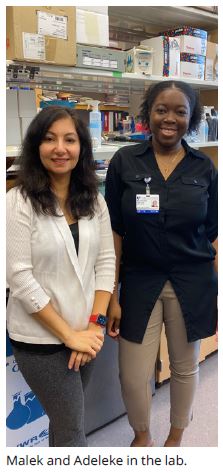 "We created an experience for Temi so that she could have a range of research exposure from basic science to translational and clinical research, since she is already familiar with the clinical care setting.  It was a pleasure and honor to spend time with Temi, help her learn more about the impact of research, and mentor a future ophthalmologist," said Eleonora Lad, MD, PhD, director, ophthalmology clinical research unit. 
Prior to the internship Adeleke was completely unfamiliar with the different aspects of research and wasn't aware of just how multifaceted it is. However, by having the occasion to move between patient care, the lab and finally on to post-mortem data analysis, she gained visibility into how it all comes together and why results-oriented research requires time and investment. Adeleke witnessed first-hand how clinical care provides data that can be analyzed and later used to shape future treatment.   
"Spending time in the research laboratory setting and observing clinical faculty in clinic was an incredible honor and a true learning experience," said Adeleke. "It allowed me to better understand the precision and compassion necessary for hands-on patient care, and showed me the fundamental relationship between basic, translational and clinical research. It was everything I'd hoped for, and then some." 
An Ophthalmologist in the Making 
According to Adeleke her internship with Duke Eye Center has only bolstered her aspirations of becoming an ophthalmologist. When asked if she's chosen a specialty in which she hopes to practice in the future, Adeleke revealed that although corneal treatments have piqued her interest, she is currently leaning toward a career in oculoplastics. 
Her advice to the next Duke Eye Center Summer Research Intern? 
"These doctors, who are taking the time to teach you, are not only moving the science of ophthalmology forward, but they are literally changing people's lives," said Adeleke. "Take advantage of the experience to study new disciplines, meet as many people as possible and keep an open mind to learn about specialties you hadn't considered before."  
Commitment to Training URiM in Ophthalmology 
Duke Eye Center is proud to have hosted the first URiM Medical Student Summer Mentored Research Program that launched in the summer of 2021 to support and help grow diversity in ophthalmology.  This new program aims to catalyze the future of innovation and success of URiM students in ophthalmology.    
The program was made possible by the generosity of our donors.  The students selected for the program receives a paid 8-week research internship, spend time in a faculty research lab, gain clinical exposure, and benefit from discussion sessions and collaborations with our faculty and trainees.  For more information on the program, please visit DukeEyeCenter.Duke.edu/donateandgive.