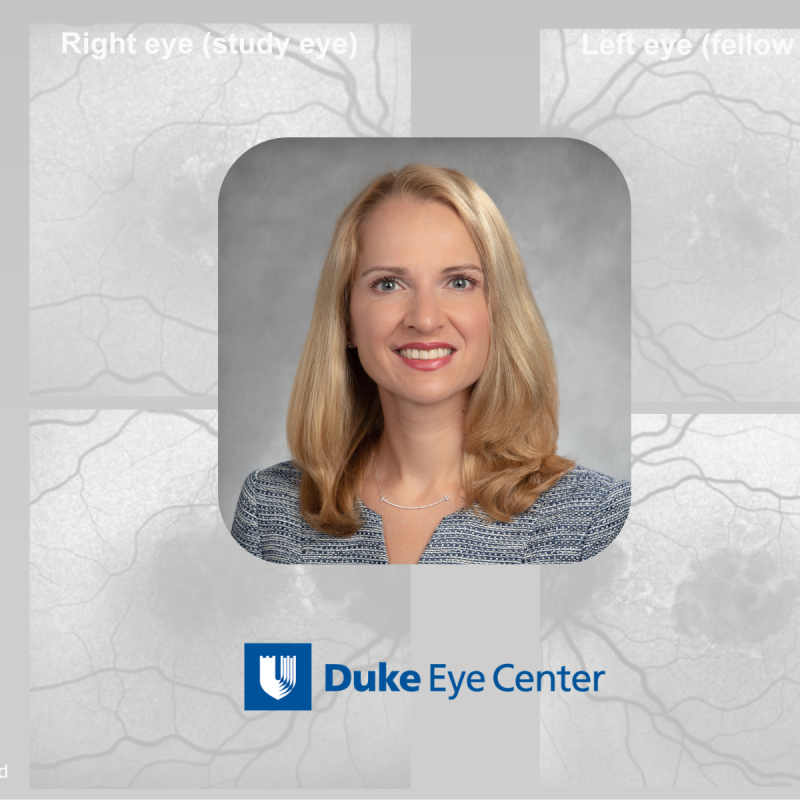 FDA Approves First Treatment for Geographic Atrophy
On February 17, 2023, the U.S. Food and Drug Administration (FDA) approved a groundbreaking treatment to treat geographic atrophy (GA), an advanced form of dry macular degeneration (AMD). Eleonora Lad, MD, PhD, director of clinical research and associate professor, was a lead investigator in the OAKS trial, a pivotal clinical trial that supported the FDA approval.
The drug, pegcetacoplan, is the first ever FDA-approved treatment for GA, which affects about one million people in the United States and five million worldwide.
This approval is "the most important event in retinal ophthalmology in more than a decade," said Lad.
Almost 20 million Americans older than 40 were living with some form of AMD in 2019, with most still in the early dry stage, according to the Centers for Disease Control and Prevention (CDC). Roughly 15 percent of people with AMD eventually transition to the vision-threatening stages known as geographic atrophy and wet, or neovascular AMD.

"Until now, there have been no approved therapies to offer people living with GA as their vision relentlessly declined," said Lad. "With pegcetacoplan, we finally have a safe and effective GA treatment for this devastating disease, with increasing effects over time."
Lad served on the Apellis Steering Committee and as the lead principal investigator (PI) of the international OAKS phase 3 registration trial. She began work with Apellis in 2014 when they approached her to learn about research on alternative visual function endpoints for dry AMD that were developed at Duke Eye Center.
Duke served in the phase 2 FILLY trial with Lad as PI, which performed at a high level. Lad assisted with the design of the phase 3 study protocol and was asked to serve as lead PI of the OAKS phase 3 registration trial that focused on functional assessments.
The Duke Eye Center clinical research unit was instrumental in the OAKS trial, setting a new standard of excellence in clinical research activities at Duke. OAKS met the primary endpoint, and both DERBY and OAKS phase 3 trials which had increased treatment effects overtime, leading to the historic FDA approval for pegcetacoplan.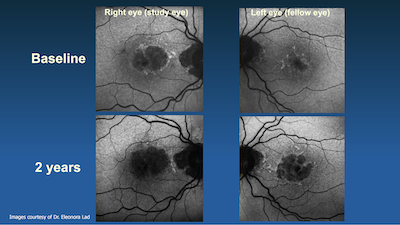 This is a wonderful moment for patients afflicted to GA, and a start of a new therapeutic era in dry AMD. Lad and Duke researchers are contributing to interventions for earlier stages of disease through development of endpoints and AI algorithms, for which Duke has a validated algorithm for GA prediction that promises to be transformative.
"Clinical research is paramount in advancing the standard of care for patients, and I am very grateful to be part of this important mission in our outstanding Department and institution. I look forward to next steps in this exciting journey, said Lad.
Pegcetacoplan, an injectable treatment, is the first medication to use targeted C3 therapy to diffuse the harmful three-pronged "complement cascade" triggered by geographic atrophy, a physiological response that attacks and destroys healthy tissue. In 2022, promising results and limited side effects achieved in clinical trials put pegcetacoplan on a fast-track designation for FDA approval.
The approval of pegcetacoplan is based on positive results from the Phase 3 OAKS and DERBY studies at 24 months across a broad and representative population of patients. Pegcetacoplan is approved for GA patients with or without subfoveal (central) involvement and provides dosing flexibility for patients and physicians with a dosing regimen of every 25 to 60 days.
In the OAKS and DERBY studies, pegcetacoplan reduced the rate of GA lesion growth compared to sham and demonstrated increasing treatment effects over time, with the greatest benefit (up to 36% reduction in lesion growth with monthly treatment in DERBY) occurring between months 18-24.
"Just as exciting is the focus shifting towards earlier stages of disease and more durable interventions, along with novel imaging, AI, and endpoints for efficacy assessment," said Lad.
"Fortunately, the therapeutic pipeline for dry AMD is already becoming explosive, so I expect that we will have better and better treatments for GA and earlier stages of dry AMD in the next few years. This is certainly a major milestone, but a lot of very meaningful work remains to be done for our families and our patients."
Duke co-investigators include Oleg Alekseev, MD, PhD; Michael Allingham, MD, PhD; Sharon Fekrat, MD; Dilraj Grewal, MD; Majda Hadziahmetovic, MD; Prithu Mettu, MD; Stefanie Schuman, MD; Lejla Vajzovic, MD; Glenn Jaffe, MD; and Cynthia Toth, MD.