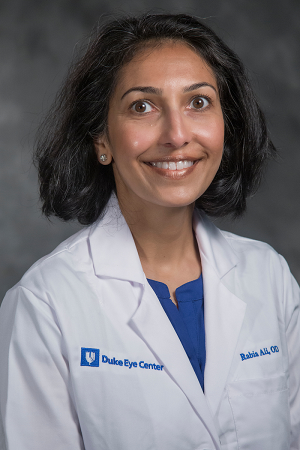 Join us in welcoming Rabia Ali, OD to the Duke Ophthalmology Comprehensive Division!
Dr. Ali sees a wide range of patients from children to adults.  She performs comprehensive eye exams ranging from routine glasses exams to diagnosing and managing acute and chronic eye conditions.  She also sees patients for emergency care such as red eyes or sudden changes in their vision.  Dr. Ali helps direct patients to any specialty care that they may need, as well as co-manage before and after eye surgeries.  She screens for and manages the beginning stages of diseases of the eyes such as dry eyes, cataract, glaucoma, diabetic retinopathy, macular degeneration and other retinal conditions. 
Dr. Ali's approach is to build a long-term partnership with the patient, their family and their healthcare team.  When a patient comes into her practice, she listens to the patient's concerns, answer any questions they may have and educates the patient, so they fully understand the options they have in their care.  She wants the patient to feel they are part of their own health care team and making informed decisions about their ocular health. 
"What continues to inspire me every day is the immediate satisfaction I get from helping someone with their vision.  Whether that is a patient seeing better after a new pair of glasses or after cataract or refractive surgery, seeing how life changing that is for a patient is what continues to inspire me every day.  It's all about helping people!  Whether its's meeting new patients or seeing my established patients for years, I love interacting with people and helping people!  That's what it's all about!"
Dr. Ali is originally from Durham, NC.  Outside of the office, she enjoys spending time with her family and friends, traveling, cooking and enjoying great food especially locally here in the Triangle area.