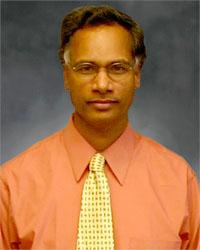 P. Vasantha Rao PhD, associate professor of ophthalmology, pharmacology and cancer biology, was one of three Duke Medical School faculty members honored with the prestigious Master Clinician Teacher Award at the annual faculty meeting May 10. He joined the Duke faculty in January 1998.
Rao and the other two recipients—Kenneth W. Lyles, MD, of the Department of Medicine and Thomas J. McIntosh, PhD, of the Department of Cell Biology—will each receive $15,000 from the Medical School for the next two years. 
Dean R. Sanders Williams, MD, and Vice Dean Edward Halperin, MD, established the award in 2004 to honor and reward excellence in both clinical care and student education. Nominations are solicited from the faculty, house staff, and student body. A three-member faculty committee recommends suitable candidates to the dean of the Medical School.