The Duke Ophthalmology residency program is one of the most highly regarded ophthalmology programs in the nation, training highly competent and ethical physicians who can contribute to their field either as comprehensive ophthalmologists or as subspecialists. During their time here at Duke, residents enjoy a supportive environment in which to develop their knowledge and skills at Duke University in Durham, North Carolina, one of the country's most livable cities. Here you will find some of their great adventures!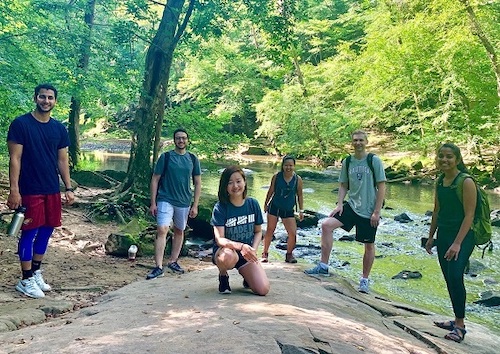 During their downtime, PGY1s enjoy a socially distanced hike in Durham in the beautiful weather!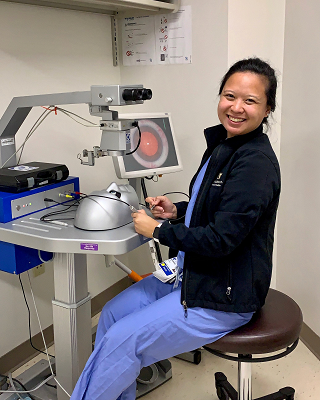 PGY1 Yuxi Zheng, MD practicing cataract surgery on the Eyesi surgical simulator at the Durham VA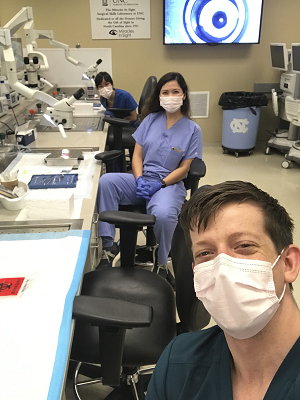 Residents visiting our neighbors at UNC for a joint wet lab session - practicing strabismus surgery, corneal transplants, and trabeculectomies on pig eyes under the guidance of enthusiastic attending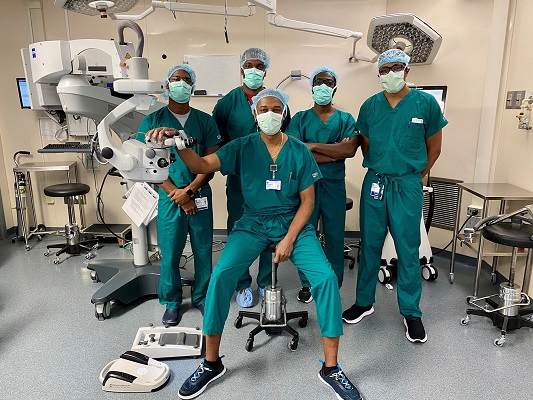 All African American rockstar team (Glaucoma Chief Leon Herndon, MD, fellow, resident, and 2 med students) in the OR!
On the PGY3 Glaucoma rotation, the resident spends three days in the operating room and two days in high-volume surgical glaucoma clinics. They also participate in weekly Socratic Rounds with our program director, Dr. Challa, and review and discuss videos of surgical glaucoma cases with Dr. Herndon.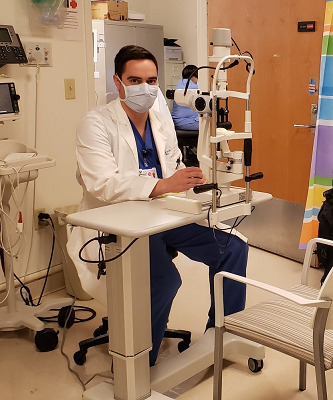 The Duke ophtho chief resident is typically a former Duke ophtho resident who takes a year after graduating from residency to work as an attending. The chief resident rounds on inpatients with the daytime consult resident, staffs residents at the VA eye clinic, and so much more! He's our go-to person when we're stuck in a situation and not sure what to do. C. Ellis Wisely, MD in the ED Eye Room, in the trenches with us and checking out the slit lamp.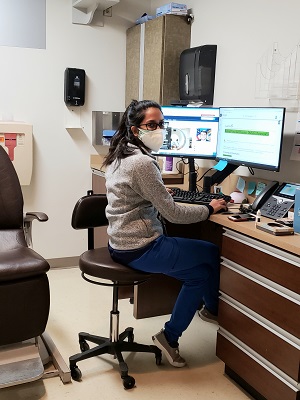 Our PGY3s at the VA help take care of veterans for a variety of eye needs, including cataract evaluations. The PGY3s also act as clinic chiefs, which means they help examine the patients and provide recommendations to the PGY1s and PGY2s. Priya Gupta, MD's favorite thing about the VA? "The veterans! They are some of the kindest people around and often share very interesting life stories."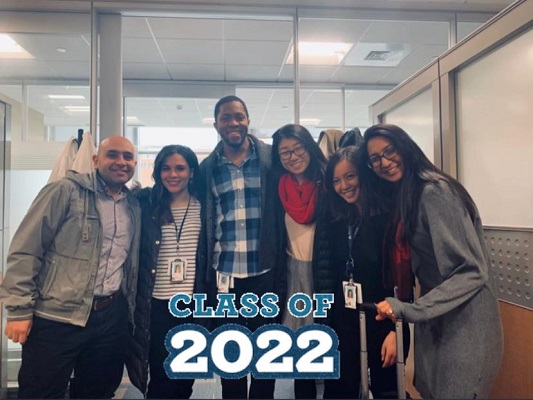 Throwback to 2019, when the members of the Class of 2022 (posing with the 7th member of their class, the consult bag) were still PGY2 first year ophtho residents and taking primary call. 
The Duke ophtho residents take primary call their first year in ophthalmology (PGY2). The second year residents (PGY3s) take back up call, and during the last year of residency, the PGY4s don't take call.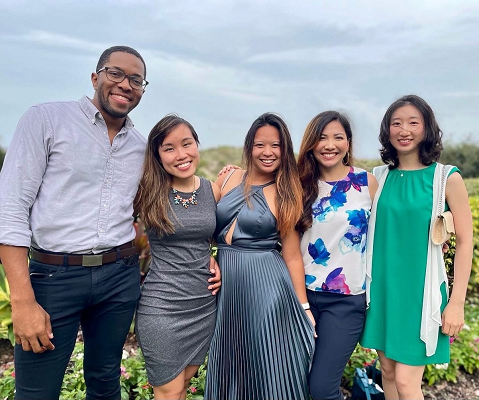 Duke residents at the 2021 Women in Ophthalmology Summer Symposium! They gave fantastic poster presentations.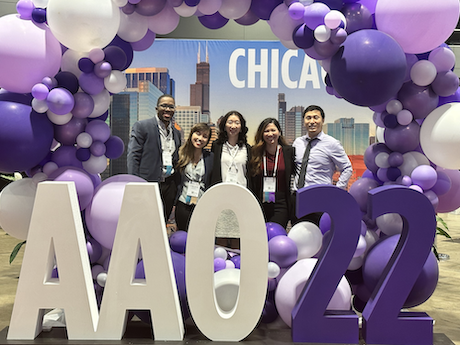 Duke residents at the 2022 American Academy of Ophthalmology meeting in Chicago, IL!
Duke residents and cornea fellows attend the 2022 American Society of Cataract and Refractive Surgery Meeting in Washington D.C.