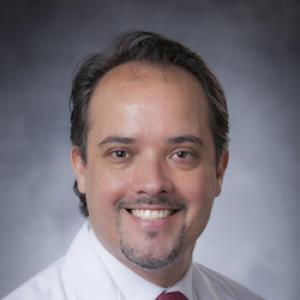 Contact Information
Duke Eye Center
2351 Erwin Rd.
Durham, NC 27705
Created and led by Felipe Medeiros, MD, PhD, the Duke Visual Performance Laboratory (DVPL) is a high-tech research lab aimed at predicting risk for functional impairments and developing assistive technologies.
The DVPL uses virtual reality and other intricate applications to investigate how eye diseases impact a patient's daily life in order to develop better methods to predict who is at a higher risk for functional impairments and create beneficial technologies to improve the quality of life for those with impairment.
By predicting individual risk levels regarding a patient's ability to drive, read, find things, or fall, our specialists will be able to make better decisions about how aggressively to treat them.
With virtual reality and simulation mechanics such as the devised and patented nGoogle, Dr. Medeiros and his colleagues are able to measure brain waves elicited by visual stimuli as to detect visual field defects.
Using statistical and artificial intelligence frameworks, new testing algorithms have been developed to diagnose and monitor eye diseases. These algorithms have been shown to improve diagnosis, staging, and detection of progression in diseases such as glaucoma compared to conventional methods.
For young patients, a game-based testing format is being created to test visual function in a more enjoyable manner, while still being objective and accurate.
The DVPL's multidisciplinary team includes ophthalmologists, engineers, computer scientists and programmers, basic vision scientists, and more. By taking advantage of the abundance of expertise at Duke and throughout the region, the lab is on track to uncover new opportunities for collaboration and expand its scope to undertake even more eye conditions.
Dr. Medeiros has the ultimate goal of using artificial intelligence to scan Duke's extensive electronic medical records database to develop systems that can recommend treatment options nearly instantaneously based on outcomes from previous patients under similar circumstances.