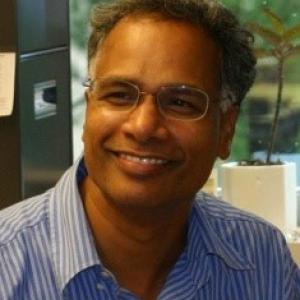 Principal Investigator
Richard and Kit Barkhouser Distinguished Professor
Professor of Ophthalmology
Professor in Pharmacology and Cancer Biology

Research in our laboratory is focused broadly on understanding involvement of the actin cytoskeleton and cell adhesive mechanisms in normal function and physiology, and the pathological processes that impact two ocular tissues: Lens and Trabecular meshwork.
As it relates to lens biology, we are investigating the role of the actin cytoskeleton and cytoskeletal signaling pathways (e.g. Rho GTPases) in cellular processes critical to lens development, cytoarchitecture, mechanics, shape and function, with the aim of identifying therapeutic targets for prevention of cataractogenesis. Ongoing studies include identification and characterization of membrane skeleton and membrane cytoskeletal scaffolding proteins (e.g. Periaxin, ankyrins and dystrophin/dystroglycan) involved in regulation of lens fiber cell differentiation, shape, adhesion, tensile properties, membrane domain organization and channel protein activity, and determining how dysregulation of actin cytoskeletal organization, membrane cytoskeletal scaffolding and signaling activities disrupts lens structure and function. Our studies leverage in vitro and in vivo models, application of high resolution microscopy, next generation sequencing, mass spectrometry, biochemical and gene targeting approaches.
In the context of glaucoma, we investigate the cellular and molecular mechanisms involved in homeostasis of intraocular pressure (IOP) and aqueous humor drainage with the ultimate goal of identifying novel molecular targets for therapeutic management of IOP in glaucoma.  Our laboratory is currently studying the extracellular and intracellular agents and pathways (e.g. GDF-15, extracellular kinases and phosphatases, Rho GTPase/Rho kinase and the Autotaxin-LPA axis) that control cell morphology, cell adhesive interactions, plasticity, extracellular matrix synthesis, phosphorylation and organization, fibrosis and contractile properties of the trabecular meshwork, all of which are recognized as determinants of aqueous humor outflow and IOP. These studies utilize both in vitro and in vivo models, trabecular meshwork-derived primary cultures, eye perfusion studies, high resolution microscopy, mass spectrometry, biochemical, physiological and gene targeting approaches.