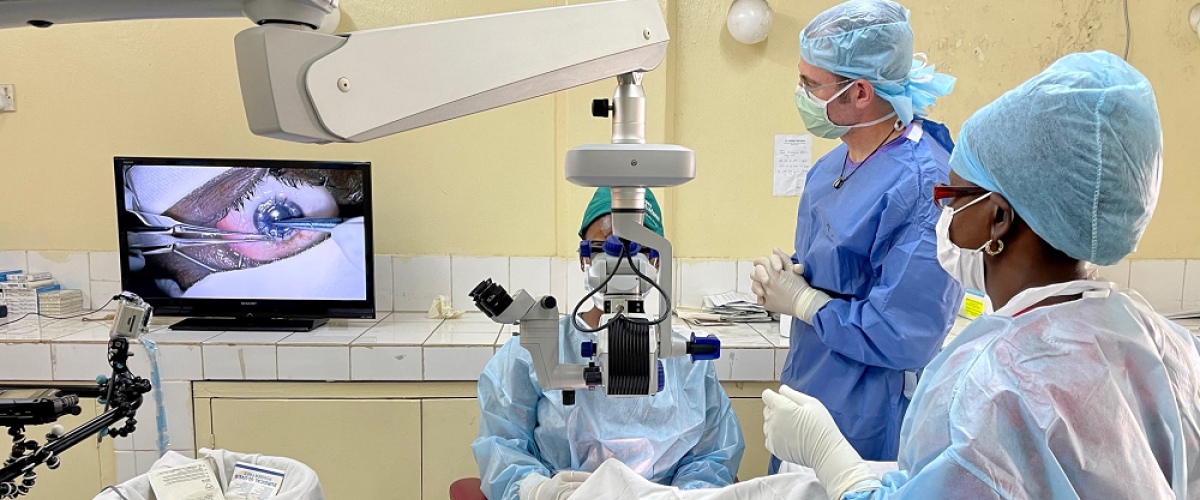 First Ever Corneal Transplants in Sierra Leone 
In July 2021, Lloyd Williams, MD, PhD, Global Ophthalmology program director, made history in Sierra Leone, Africa, by performing the first corneal transplants ever performed in that country, resulting in eight blind patients gaining vision, some seeing their children for the very first time. This work was made possible by Williams' 20-year history of working in Africa and a collaboration with Jalikatu Mustapha, MD, head of the National Eye Programme in Sierra Leone.   
The transplant surgeries spurred great interest and excitement in eye care from the Sierra Leone Ministry of Health and the general public. Williams and the collaboration with Mustapha were featured on "Good Morning Sierra Leone," among other national news programs, and prompted the donation of land for a new tertiary eye care facility, which does not currently exist in the country. 
"We believe that this work will generate important research findings regarding the genetics and treatment of major blinding conditions in Africa. We also believe this work will help elevate the status of medical leaders like Mustapha and her colleagues and enable the expansion and improvement of eye care abroad.  Most importantly this work will help reduce avoidable blindness and human suffering"   

- Lloyd Williams, MD, PhD, Director Duke Global Ophthalmology Program   
---
Leading the Health Brigade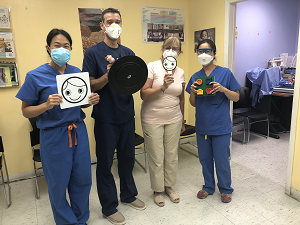 Grace Prakalapakorn, MD, MPH, pediatric ophthalmologist and director of international outreach, has been actively involved in providing essential health care to those who need it most in a variety of places around the world, including countries in Africa, Europe, Asia, and South America.   
In March of 2018, Prakalapakorn was an integral member of a health brigade hosted by the U.S. Virgin Islands Department of Health in collaboration with the U.S. Centers for Disease Control and Prevention. The brigade was deployed to the islands of St. Thomas and St. Croix to deliver recommended Zika virus-related pediatric vision, hearing, neurological, and developmental health screenings to infants born to mothers with laboratory evidence of the virus during pregnancy. Exposure to Zika virus creates the risk of microcephaly, as well as other birth defects.  
Prakalapakorn led the second health brigade as a follow-up in July of 2021 — postponed a year due to the COVID-19 pandemic — to provide supplemental screenings to those who were initially examined in 2018, along with others who were previously unable to participate in the specialty screenings.  
She coordinated a group of eye care providers including Duke Eye Center orthoptist Sandra Holgado, and former pediatric ophthalmology fellows who now practice across the country: Derek Bitner, MD, Daniel Lattin, MD, and Ann Shue, MD, and Angeline Nguyen, MD, from Children's Hospital of Los Angeles. Along with other physicians, audiologists, nurses, and administrative support staff, they delivered services throughout the two-week mission to more than 170 children. 
---
Addressing Glaucoma in Ghana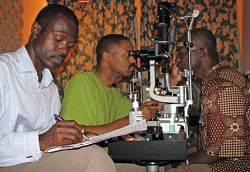 For more than 20 years, Leon Herndon, MD, professor of ophthalmology and glaucoma division chief, has traveled to Ghana, West Africa, to treat glaucoma and has been engaged in ongoing research projects evaluating the high prevalence of primary open angle glaucoma in the region and the differential burden of glaucoma on African-derived populations. Glaucoma is especially severe in Africa due to a lack of awareness and resources among the public and government. Basic diagnostic tools are lacking, drugs are prohibitively expensive, and surgery is risky, on top of other challenges such as food instability and political issues. Expanding his reach in Africa, Herndon recently began collaborating with Jalikatu Mustapha to develop a plan for glaucoma treatment in Sierra Leone.  
---
Curing Eye Disease Worldwide 
By unifying all our international professional education, outreach, patient care, and research efforts under one umbrella, Duke Ophthalmology can strategically assess and seize opportunities to maximize global impact.  
This infrastructure will help us strengthen existing international efforts and launch new ones, build relationships so we can tailor our offerings to the needs of specific communities and regions, and provide faculty, staff, and trainees with extraordinary opportunities to engage with and provide service to other countries and cultures. 
Support for the Global Ophthalmology program will allow us to maximize resources, provide more sight-saving services, and sustain these efforts long-term. 
---
Patient Care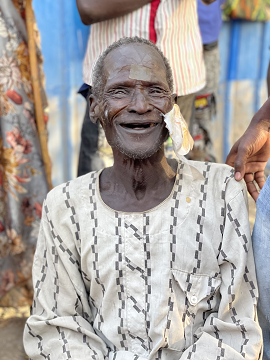 Until now, most outreach missions undertaken by our Duke Ophthalmology team members have been organized through national agencies or global organizations or on an ad hoc basis. The Global Ophthalmology Program will provide structure and support to optimize care for patients worldwide.  Support for the program will fund outreach missions to underserved countries and provide clinical expertise remotely to eye care providers via international consultations and telemedicine.  
The telemedicine program, using technology embedded in strategic international locations, will assist in diagnosis and management for eye diseases and offer case consults and second opinions.  
By expanding eye care facilities in underserved regions, residents will have access to better care. 
---
Education 
There is no better way to benefit communities and improve outcomes worldwide than through education. 
In conjunction with patient care missions, Duke Ophthalmology faculty can train ophthalmologists to save vision by performing common and innovative treatments for cataracts, corneal disease, diabetic retinopathy, glaucoma, and retinopathy of prematurity, among other conditions.   
Establishment of a Duke Global Ophthalmology Fellowship will provide an added benefit to our outreach missions by increasing access to education for eye care providers abroad. Fellows will assist in managing the Global Ophthalmology Program and spend substantial time abroad providing clinical care to patients in need of eye care  
Victor Perez, MD, has a keen interest in global education. He established an international education program at Duke Ophthalmology that offers professional conferences at Duke and abroad, facilitating collaboration with international medical and surgical colleagues around the world. Duke Ophthalmology faculty in relevant specialties and experts across the globe lead the conferences, which are tailored to the needs and interests of each region.  
The Global Ophthalmology Program provides structure and support for visiting research scholars, graduate students, and research fellows who can come to Duke to observe in the clinic or take part in research. Rather than require each hosting division to make its own arrangements, the program will streamline this process and support hosts and visitors by assisting with services ranging from ensuring compliance to arranging housing, helping to give our guests the best experience possible and foster lasting relationships. 
---
Research 
Duke Ophthalmology has a robust portfolio of global research activities that will be strengthened and expanded by the global connections built through our international activities. 
The Global Ophthalmology program will first focus on building out the education, outreach, and patient care sectors, and then turn our attention to building the infrastructure to further support and grow our global research enterprise.  
---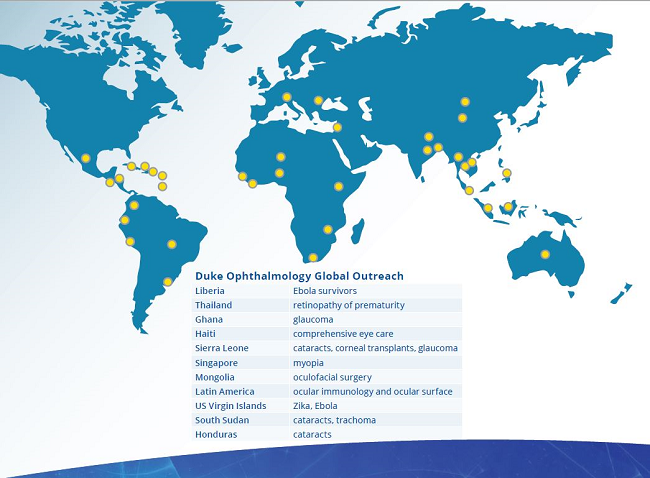 "It is so devastating to see the lives of individuals, families, and communities that have been disrupted due to vision loss, especially when it could have been prevented. Going into these communities, working side-by-side with local providers, and providing care to patients and families is very gratifying. We want to enable all faculty, staff, and trainees at Duke Ophthalmology to have the privilege of participating in these life-changing international outreach missions." 

–S. Grace Prakalapakorn, MD, MPH 
---
The Importance of Philanthropy 
The strategic framework of the Duke Global Ophthalmology Program will enable Duke Ophthalmology to build upon decades of successful outreach, education, research, and patient care efforts and make an even greater impact on global eye health and vision. 
Duke Ophthalmology must secure substantial philanthropic investment to ensure the long-term success and impact of the Duke Global Ophthalmology program. Seed funding, endowment, and planned giving support is needed to help cover expenses such as: 
strategic planning, infrastructure building, and administrative support 
technology (hardware and software) for international telemedicine consults 
curriculum development for educational programs, and travel expenses to developing countries 
observerships, fellowships, and stipends for visiting international physicians and researchers 
travel, lodging, and living expenses for mission groups in-country 
Together, we can make an even greater impact on eye health and vision worldwide. 
To learn more about the Duke Ophthalmology International Program and explore ways you can help, contact Ari Gauss, executive director of development, at 919-385-3128 or ari.gauss@duke.edu.