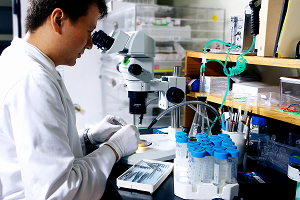 The Duke Glaucoma Division has a long-standing tradition of excellence in basic science, translational, and clinical research. 
Results from basic science and epidemiological studies are translated into well-designed clinical trials, ultimately leading to the development of new therapies for glaucoma disease.
Duke glaucoma faculty lead and collaborate with other physician-scientists nationwide in many of the clinical trials that define the evidence base for practice.
Each of the clinical and basic science physicians in the Division is involved in glaucoma research with a wide breadth of study. There are four focus areas of glaucoma discoveries at Duke Eye Center.
Basic research that served as foundation to bring the first two new class of glaucoma drugs to patients in 20 years, the rho kinase inhibitors and nitric oxide donors
Identification of genes that are responsible for susceptibility to glaucoma
Innovative device discoveries such as glaucoma shunts and glaucoma drug delivery (dropper and retroject)
Novel OCT imaging technology to better diagnose and follow glaucoma progression