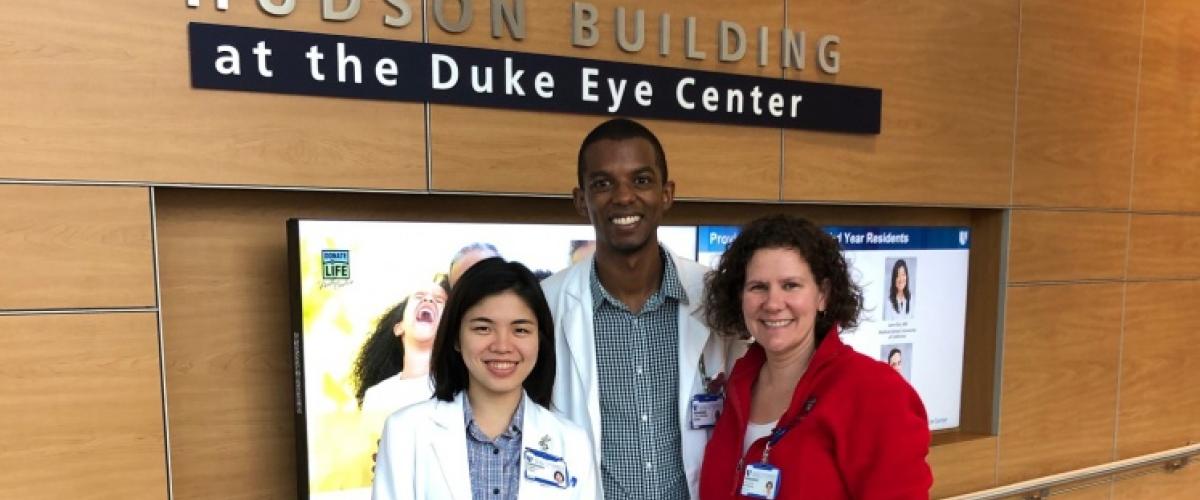 General Ophthalmology Elective (422C)
The Duke fourth-year medical student Elective is a 4-week rotation with broad exposure to ophthalmic subspecialties.  Duke Eye Center offers several elective opportunities for 4th Year medical students.  Students have the opportunity to tailor the elective based on their interests. 
Students observe and participate in patient care:
in the clinics as well as the operating rooms
on the ophthalmic consult service and night-call with residents
Dedicated educational sessions for the fourth-year medical students on the Elective include:
a hands-on anatomy dissection
interactive training with the most commonly used examination equipment
case-based teaching sessions with faculty and residents
students are invited to attend didactic lectures by renowned faculty on a variety of ophthalmic topics
Additional educational activities
•    Medical Student Grand Rounds
•    Supervised wet-lab experience
•    Community outreach activities
•    Access the curriculum (current Elective students, log in required)
•    Access the schedule (current Elective students, log in required)
•    Checklist for Elective students
 
Contact information
Medical Ophthalmology Lecture Course (420C)
Each winter, the Duke Eye Center offers an 8-week lecture course (2 hours per week) covering ophthalmic signs and symptoms of common ocular and systemic diseases.This course is oriented for those students interested in family medicine, pediatrics, internal medicine, emergency medicine, or ophthalmology. Course director: Jullia Rosdahl MD PhD
Pediatric Ophthalmology Elective (425C)
The Pediatric Ophthalmology Elective is a clinical preceptorship in which the student participates in the outpatient pediatric ophthalmology clinics. The student will encounter the more common ocular disorders of childhood including ocular motility disturbances, congenial cataracts, glaucoma, and genetic and metabolic disorders. In addition, adult motility disorders and neuro-ophthalmic disease such as thyroid eye disease, cranial nerve palsies, and optic nerve abnormalities will be encountered. The diagnosis and treatment aspects are emphasized heavily and opportunities to observe surgery are provided. The course meets by arrangement and requires a minimum of five days for credit. Course organizers: Edward Buckley MD, Laura Enyedi MD, Sharon Freedman MD, Grace Prakalapakorn MD.