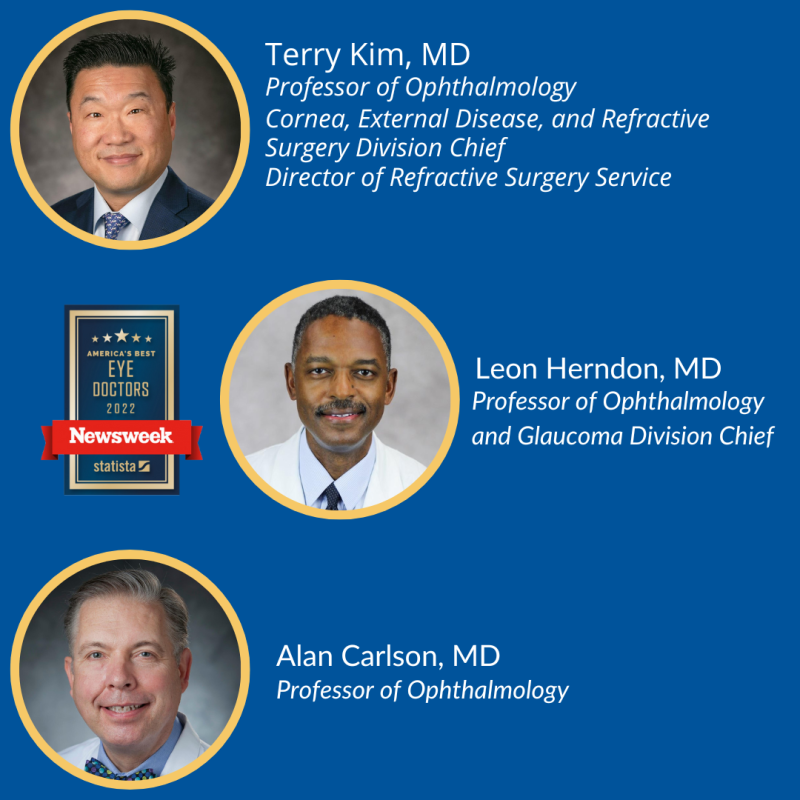 We are proud to report that 3 Duke faculty made the America's Best Eye Doctors 2022 List by Newsweek!
Newsweek partnered with the respected global research firm, Statista, to find the best eye doctors in the country.  They looked at the 20 populous states in the US and selected the 350 best ophthalmologists (MDs who specialize in treating the eye) and optometrists (licensed professionals who have earned a post-college doctor of optometry degree).  They did not rank opticians, who are trained to design and fit eyeglasses and lenses but not to diagnose or treat diseases or injuries.  
Their research started with a survey of over 10,000 ophthalmologists, optometrists, clinic managers, and other healthcare professionals who they asked to recommend the best eye doctors in the US.  In total, 175 doctors were awarded and ranked based on recommendations, quality of care/equipment, and accreditation.
Congratulations to Dr. Terry Kim, MD, Dr. Leon Herndon, MD, and Dr. Alan Carlson, MD!