A Duke University School of Medicine Service Center and Repository
History, Mission and Partners 

The BioSight shared resource is a product and vision of the late, R. Rand Allingham, MD., the Richard and Kit Barkhouser Distinguished Professor and former Chief of the Glaucoma Service for Duke Eye Center.  The Eye and Tissue Biorepository and Donor Registry of the Duke Eye Center was first established in July 2016, because of the tireless efforts of Cecile Santiago-Turla, MD. The biorepository was named BioSight in July 2018, when it became a shared resource and joined the Duke University School of Medicine Core Research Facilities.  In 2020, its name changed to BioSight Service Center and Repository to align with new Duke naming policies.
Our mission is to effectively evaluate, fairly distribute and securely store the highest quality human ocular tissue possible for the Duke research community.
As a shared resource, we maximize the use of precious, well-characterized ocular tissues to support world-class eye research. Our streamline procurement protocols improve the freshness and number of eyes available for research; and our immediate access to electronic medical records improves tissue value.
Our program is made possible with the strong ongoing partnerships with Duke Health Systems (DHS), Donate Life North Carolina, Carolina Donor Services (CDS) and Miracles in Sight (MiS). Our eye registry for donation is conducted through Donate Life North Carolina website, which manages donor registrations for the state of North Carolina.  Carolina Donor Services (CDS) is the federally designated organ procurement organization for North Carolina, whose core purpose is ensuring that gifts of donation are fulfilled. CDS also works diligently to increase awareness of the need for organ and tissue donation.  CDS partners directly with DHS (Hospitals and Hospice) and MiS to coordinate timely procurement of the eye tissue. A local MiS recovery specialist plays a critical role in directly providing BioSight with the donated eyes from Duke Hospitals.
Together we are all moving forward to advance eye research.



We provide characterized ocular tissue for research
Fresh eye globes
Ocular tissue Processing and Storage
Training and Consultation
Protocol Support and Development
Consenting for Surgical Tissue Discard
Extract relevant medical history from EMR (de-identified)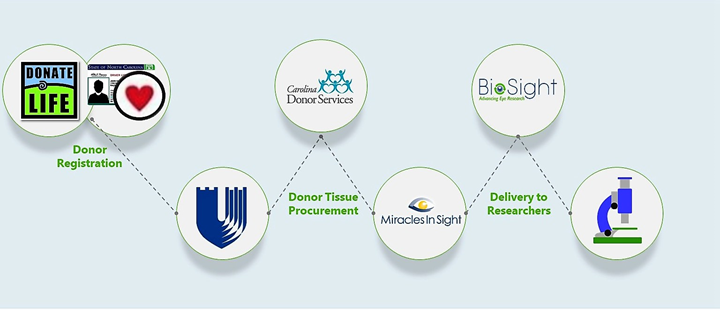 High-density lipoproteins are a potential therapeutic target for age-related macular degeneration..Kelly UL, Grigsby D, Cady MA, Landowski M, Skiba NP, Liu J, Remaley AT, Klingeborn M, Bowes Rickman C. J Biol Chem. 2020 Sep 25;295(39):13601-13616. doi: 10.1074/jbc.RA119.012305. Epub 2020 Jul 31. PMID: 32737203.

Comprehensive identification of mRNA isoforms reveals the diversity of neural cell-surface molecules with roles in retinal development and disease. Ray TA, Cochran K, Kozlowski C, Wang J, Alexander G, Cady MA, Spencer WJ, Ruzycki PA, Clark BS, Laeremans A, He MX, Wang X, Park E, Hao Y, Iannaccone A, Hu G, Fedrigo O, Skiba NP, Arshavsky VY, Kay JN. Nat Commun. 2020 Jul 3;11(1):3328. doi: 10.1038/s41467-020-17009-7. PMID: 32620864; PMCID: PMC7335077.

An In Vitro Bovine Cellular Model for Human Schlemm's Canal Endothelial Cells and Their Response to TGFβ Treatment. Cai J, Perkumas K, Stamer WD, Liu Y.  Transl Vis Sci Technol. 2020 Jun;9(7):32. doi: 10.1167/tvst.9.7.32. eCollection 2020 Jun. PubMed PMID: 32832237; PubMed Central PMCID: PMC7414733.

Expression of mRNAs, miRNAs, and lncRNAs in Human Trabecular Meshwork Cells Upon Mechanical Stretch. Youngblood H, Cai J, Drewry MD, Helwa I, Hu E, Liu S, Yu H, Mu H, Hu Y, Perkumas K, Aboobakar IF, Johnson WM, Stamer WD, Liu Y.  Invest Ophthalmol Vis Sci. 2020 May 11;61(5):2. doi: 10.1167/iovs.61.5.2. PubMed PMID: 32392310; PubMed Central PMCID: PMC7405621.

Differential DNA methylation patterns in human Schlemm's canal endothelial cells with glaucoma. Cai J, Drewry MD, Perkumas K, Dismuke WM, Hauser MA, Stamer WD, Liu Y.  Mol Vis. 2020;26:483-493. eCollection 2020. PubMed PMID: 32606567; PubMed Central PMCID: PMC7316632.

Shear Stress in Schlemm's Canal as a Sensor of Intraocular Pressure.  McDonnell F, Perkumas KM, Ashpole NE, Kalnitsky J, Sherwood JM, Overby DR, Stamer WD. Sci Rep. 2020 Apr 2;10(1):5804. doi: 10.1038/s41598-020-62730-4. PMID: 32242066; PMCID: PMC7118084.

Accessibility to and Quality of Human Eye Tissue for Research: A Cross-Sectional Survey of ARVO Members.  Stamer WD1, Williams AM2, Pflugfelder S3, Coupland SE4. Invest Ophthalmol Vis Sci. 2018 Oct 1;59(12):4783-4792. doi: 10.1167/iovs.18-25319. PMID: 30304462
Pharmacological regulation of outflow resistance distal to Schlemm's canal. McDonnell F1, Dismuke WM1, Overby DR2, Stamer WD1,3. Am J Physiol Cell Physiol. 2018 Jul 1;315(1):C44-C51. doi: 10.1152/ajpcell.00024.2018. Epub 2018 Apr 6. PMC6087729
Differentially expressed microRNAs in the aqueous humor of patients with exfoliation glaucoma or primary open-angle glaucoma. Drewry MD1, Challa P2, Kuchtey JG3, Navarro I2, Helwa I1, Hu Y4, Mu H5, Stamer WD2, Kuchtey RW3,6, Liu Y1,7,8. Hum Mol Genet. 2018 Apr 1;27(7):1263-1275. doi:10.1093/hmg/ddy040. PMC6048986
Successful Implementation of a Program for Increasing Donor Eyes for Research: The Duke-Miracles In Sight Program. Williams AM1, Perkumas KM2, Perry I3, Wen JC4, Keeling J3, Tramber M3, Liton PB2, Stamer WD2. J Ocul Pharmacol Ther. 2016 Apr;32(3):145-9. doi: 10.1089/jop.2015.0107. Epub 2016 Jan 28. PMC4827310