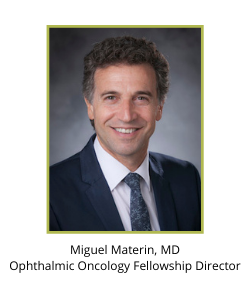 About the Program
The Duke Ophthalmic Oncology and Pathology Fellowship is a one-year program that provides comprehensive training in medical and surgical care of ophthalmic oncology patients and an advanced level of proficiency in processing and interpretation of eye pathology specimens. The fellowship position will work under Miguel Materin, MD, Professor of Ophthalmology and Radiation Oncology, member of Duke Cancer Institute (DCI) and Director of the Duke Center for Ophthalmic Oncology.  Duke is a major referral center for ophthalmic cancers.  The fellowship includes a multidisciplinary approach to medical and surgical management of a wide range of ophthalmic cancers in collaboration with world renowned faculty at DCI and Duke's radiation oncology department.
Research
Regarding research, the fellow will participate in IRB approved research projects and case reports.Fellows will gain surgical experience using the latest surgical approaches for tumor biopsy, implantation of radioactive delivery systems, tumor excision, laser treatment modalities, cryotherapy, chemotherapy delivery and more. Clinical instruction focuses on examination, evaluation, diagnosis and management under Dr. Materin's supervision.
The fellow will work with Duke's ophthalmic pathologists to processing and interpretation of eye pathology specimens using imaging techniques such as OCT and OCT-A, ophthalmic ultrasound, fluorescein angiography, indocyanine green angiography, autofluorescence and others. 
The pathology portion of the fellowship is complementary and flexible depending upon the career goals of the trainee.
Fellows will participate in educational activities of the department including teaching residents and medical students, grand rounds, journal clubs and society meetings.
Fellowship Applications
See the SFMatch website for instructions on completing the Central Application Service (CAS) application. Please assure that we receive the following items in addition to your USMLE scores, CAS Application, and 3 letters of reference by August 30, 2019.
1. One additional letter of reference from a professional who knows you 
2. A good quality current photograph 
3. A good quality copy of your undergraduate, graduate, and medical school transcripts
You may mail these documents to Jessica Hill, Ophthalmic Oncology Fellowship Administrative Coordinator, 2351 Erwin Road, DUMC 3802, Durham, NC 27710 or scan and email to jessica.hill@duke.edu.