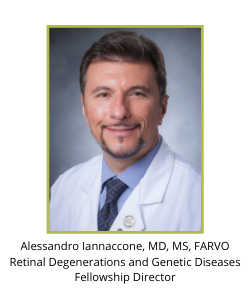 The Duke Center for Retinal Degenerations and Ophthalmic Genetic Diseases offers a one-year training program for one fellow each year.  This program provides comprehensive training in the evaluation, diagnosis and management of patients—both children and adults—with a broad array of inherited eye disorders including inherited retinal and macula degenerations, genetic syndromes, and metabolic diseases that affect the eye, as well as autoimmune retinopathies and other phenocopies of inherited retinal diseases.
The fellowship will prepare the fellow to work independently as an inherited retinal disease specialist. The candidate will learn the approach to patients and families and individuals with genetic diseases, methods of clinical molecular diagnosis, genetic counseling, visual electrophysiology, and psychophysics. Fellows will actively participate in the clinics of the faculty under direct supervision two to three days a week and will have the opportunity to hold an independent clinic one day per week. 
The fellow will also have the opportunity to be engaged in clinical and/or basic-science research projects related to inherited retinal diseases and teaching opportunities.  
---
Requirements
Candidates must hold an M.D. or equivalent degree, and have successfully completed at least three years of training in an ophthalmology residency program.  The fellow must be eligible for a North Carolina Medical License.  We also require USMLE scores, CAS application and 3 letters of reference.  
Fellowship for Foreign Nationals
We cannot accept a training license; international medical school graduates who do not qualify for a North Carolina Medical license cannot be offered fellowship positions.  We do not provide immigration sponsorship for clinical associates.
---
Application
To apply for the fellowship, you may complete the application online, email or mail the above documents to Christy Puett at DUMC Box 3802, 2351 Erwin Road, Durham, NC 27710.