About the Program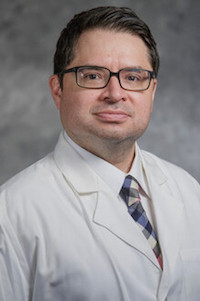 Our Inherited Retinal Degenerations (IRD) Fellowship program is a comprehensive one-year training opportunity designed to immerse ophthalmologists in the captivating world of ophthalmic genetics. Our program offers unparalleled training in both pediatric and adult cases, ensuring a well-rounded exposure to the spectrum of inherited and congenital ocular conditions, with a particular emphasis on inherited retinal degenerations and congenital ocular conditions. Fellows will acquire the expertise needed to diagnose and manage these diverse and intricate conditions.
Distinguished by its unique blend of clinical and academic excellence, the program integrates robust hands-on clinical experience with cutting-edge research opportunities. Approximately 40% of our diverse patient population is comprised of pediatric patients, affording fellows the chance to specialize in managing hereditary ocular disorders from infancy through adulthood. Core to the training is the acquisition of skills in electrophysiology, retinal imaging, and the clinical and genetic diagnosis of inherited retinal conditions, under close guidance of our IRD specialists.
We foster an environment that encourages active participation in clinical, basic, and translational research initiatives, empowering fellows to explore novel insights into the pathophysiology and treatment of inherited retinal diseases. As part of our commitment to scholarly pursuits, we provide a dedicated research day each week, allowing fellows to delve into projects that contribute to the advancement of knowledge in this evolving field. Furthermore, the program strongly encourages and expects participants to present their research findings at national meetings, facilitating their integration into the broader academic and clinical discourse. Motivated fellows will have the option to be exposed to the various aspects of our clinical trials, observe gene therapy delivery surgery, and become involved in laboratory-based IRD research projects. Fellows are encouraged to compete for the Foundation Fighting Blindness Clinical Research Fellowship Award (CRFA) or other sources of funding to support their research projects during the fellowship year.
By embarking on this transformative journey, fellows will gain a profound understanding of inherited retinal diseases, from their genetic underpinnings to their clinical manifestations. As they work alongside leaders in ophthalmic genetics, our fellows will be empowered to become the next generation of experts who will shape the landscape of care and research in inherited retinal degenerations.
Faculty
Duke Center for Ophthalmic Genetics Members
Genetic Counselor: Anna Duemler, MS

Electrophysiology Technician: Marina Kedrov

Pediatric Imaging: Keely Roberson

Research Fellows

Clinical Research Unit Manager: Sarah Jones
Fellowship Alumni:
2021-2022: Oleg Alekseev, MD, PhD

2022-2023: Aanal Vyas, MD

2023-2024: Kubra Sarici, MD
Application
Applicants should apply via SFMatch. The deadline is October 31st, and interviews are scheduled in late November / early December. The program is limited to one fellow per year, to ensure a focused and personalized learning experience.
Requirements
Successful completion of Ophthalmology residency at an ACGME-accredited ophthalmology program

Eligible to obtain a North Carolina medical license

Currently, we do not sponsor visas